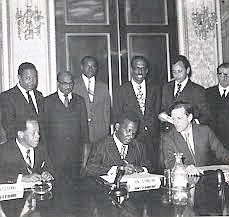 The Hon. Sir Lynden O. Pindling, Prime Minister, is shown above centre signing the Report on the final day of the Constitutional Conference which took place at Marlborough House in London from 12 to 20 December 1972. Looking on are the Arthur D Hanna, Deputy Prime Minister and Lord Balniel, Minister of State for Great Britain. Standing from left to right are Paul L. Adderley, Minister of State, Carlton E. Francis, Minister of Development, Inspector Minus, A. Loftus Roker, Minister of Health and Mr. George A. Smith, Parliamentary Secretary to the Prime Minister.
Photo: Commonwealth Secretariat Archives
Stories this photo appears in:

We last spoke on May 11, the 95th birthday of George's beloved friend, Arthur. This journal's managing editor asked who the paper might contact to pay tribute to Sir Arthur Foulkes, five years shy of becoming a centenarian.