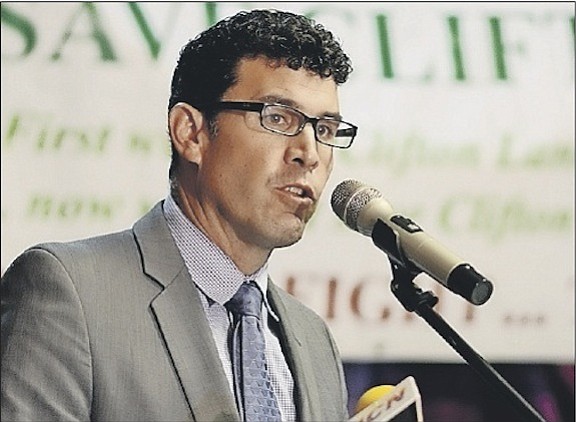 Matt Aubry, executive director of the Organization for Responsible Governance.
Photo: Shawn Hanna/Tribune Staff
Stories this photo appears in:

The Bahamas 81st ranking in a new global bribery index must serve as a wake-up call to "keep our foot on the gas pedal" in the fight against corruption, governance reformers urged yesterday.

The Bahamas' ranking as the world's sixth most expensive nation to live in highlights "a fundamental challenge related to the country's economic viability", it was argued last night. Matt Aubry, the Organisation for Responsible Governance's (ORG) ex

The Bahamas yesterday regained its status as the least corrupt country in the Caribbean despite governance reform activists arguing that this "does not tell the full picture" on widespread graft.Matt Aubry, the Organisation for Responsible Governance

The bribery probe involving the Defence Force's $150m fleet "speaks volumes" about the need for Parliament to take the anti-corruption fight "as seriously as the country", governance reformers urged yesterday. Matt Aubry, the Organisation for Respon

Bahamians must "mobilise their outrage into action" if this nation is to defeat both real and perceived corruption plaguing society, governance reformers urged yesterday.Matt Aubry, the Organisation for Responsible Governance's (ORG) executive direct

Governance reformers yesterday demanded that the public sector be "called out" over its multi-million dollar waste and inefficiency, and warned: "Audits don't make it go away."

Governance reformers yesterday warned Bahamians that their tolerance of low-level graft creates a breeding ground for multi-million dollar corruption which ultimately hurts them.

ORGANISATION for Responsible Governance has renewed calls for the debate and passage of the highly anticipated Integrity Commission bill, asserting that its passage would assist in the handling of corruption cases.

The Government's Non-Profit Organisations Bill is too one-sided because it neglects the positive effects of the sector's growth for Bahamian society, a governance reformer argued yesterday.

The Bahamas would be "very wise to heed" findings that a new fiscal watchdog's credibility will be enhanced the more independent it is from the Government.

AS the general election looms, activists fear that the government's Freedom of Information Act (FOIA) 2017 is heading for the same fate of its predecessor, which was passed by the previous government months before the 2012 election but never enacted.