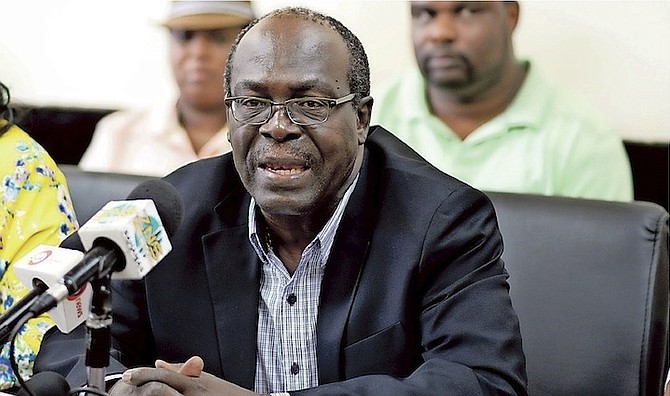 Obie Ferguson, President of the Trade Union Congress.
Stories this photo appears in:

The merger of The Bahamas' two major trade union bodies is "critically urgent" because workers are losing hard-fought rights and benefits, a leading unionist has told Tribune Business. Obie Ferguson, head of the Trades Union Congress (TUC), said its

Trade union leaders want a minimum wage increase to between $250-$300 per week, and are pushing for the issue to be formally discussed by the National Tripartite Council.

A trade union leader yesterday said "within 14 days" he will seek a Privy Council hearing on a ruling that threatens to "paralyse" industrial agreements and undermine worker protections.

A trade union leader yesterday said the Grand Lucayan's managers are "optimistic" that their voluntary separation packages will be finalised shortly once the prime minister addresses their proposal.

The Grand Lucayan is "hellbent" on using the wrong formula to calculate staff separation packages for middle managers who were yesterday said to have cut their demands "by over $1m".

The Grand Lucayan and its management union are $2m apart on the value of voluntary separation packages, with the latter's attorney yesterday arguing such payouts are not covered by law. Obie Ferguson, pictured, who is acting for the Bahamas Hotel Man

TRADE Union Congress President Obie Ferguson said on Wednesday that the members of several unions across the country were carrying out a "sit in" at respective government departments in a bid to pressure the government to accede to a lengthy list of demands for workers.

TRADE Union Congress President Obie Ferguson hinted yesterday that extensive labour action could occur across the country in the coming weeks, as he spearheaded the platform merger of several of the nation's unions in their respective grievances against the Christie administration.