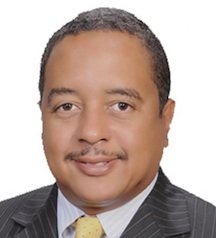 Damien Gomez
Stories this photo appears in:
Trying the $1.1 million damages claim against Jamie Dingman's failed Nassau restaurant empire in New York will be "a waste of judicial resources", a former Cabinet minister is arguing.

CENTRAL and South Eleuthera MP Damian Gomez said he would be "surprised" if Supreme Court Justice Indra Charles is called before the Committee on Privileges after being named last week in a resolution to determine whether she and others should be held in contempt of the House of Assembly.

FOLLOWING fresh revelations of missing funds from a government department, Legal Affairs Minister Damien Gomez has been urged to honour his pledge to fight official corruption.

Adrian Gibson continues his analysis of the performance of members of the Cabinet - complete with their grades - below and on the following two pages.

DAMIAN Gomez, State Minister for Legal Affairs, yesterday denied that the sudden resignation of the government's top prosecutor was the result of political interference.

LEGAL Affairs Minister Damien Gomez yesterday said it was too premature to discuss whether or not the government will renew the contract of Director of Public Prosecutions Vinette Graham-Allen.