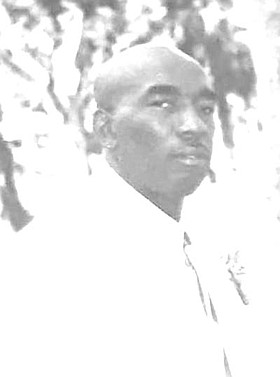 William Benjamin Ferguson
unknown - unknown
Funeral service for the late William Benjamin Ferguson age 61 years of #1 Lake Blvd. and formerly of Acklins will be held on Sunday, March 8th, 2020 at 11:00 a.m. at Maranatha Seventh-day Adventist Church, Prince Charles Drive. Officiating will be Pastor Valentino M. Campbell assisted by Pastor Leonardo Rahming, Pastor Larry Greene, Elder Warren Farquharson, Elder Allan Smith, Elder Christopher Gayle. Interment will follow in Lakeview Memorial Gardens, John F. Kennedy Drive and Gladstone Road. 


Cherished memories will always linger on in the hearts of his loving Wife: Jennifer Ferguson; Adopted Children: Christopher (Sherece), Bertis (Tiffany) and Keva Wallace; Grand Children: Chisternique, Tinique, Dominic, Grace, Christopher Jr., Atarah Wallace, Kailey Rolle; Four Sisters: Beulah (Patrick) Wright, Maxine (Frank) Starr, Olgaleane (Edwin) Smith, Roxanna Ferguson; Sister in Laws Angela (Robert) Gierszewski, Sandra Ferguson, Pauline (Delroy) Lawrence, Desme Riddell; Aunts: Lorena (Gladstone) Nottage, Marilyn (Washington) Lafleur, Joyce, Colette and Dorothy Hanna, Evelyn Moss, Deloris, Hazel Forbes, Myrtle Minus, Francis Ferguson; Uncles: Allins Hanna, Ehurd Hanna, Manley Stephens; Numerous Neices and Nephews including: Patrtick Wright Jr., Richard (Gertrude) Wright, Rayford, Kimel Starr, Angelia (Troy) Cargill, Joan (Ruby) Mawasha, Caroline, Pedro (Estherlyn), Edwin Jr. (Candy), Jarred (Susan) Smith, Kayla (Darcy) Cox, Rashad Morley, Ricardo (Sherise) Adderley, Marva (Antoine) Miller, Christine (Carlton) Adderley, Rudy, Ryan Ferguson; Relatives and Friend including Narada Rolle and Family, Junior and Sonya Williamson, Kayla Dorsette and Family, Robert Claire, Staff of Simson Penn, Dr. Theodore Ferguson and Team, Pastor Larry Greene and Family, Pastor Leonardo Rahming and Family, Shelene and Allan Smith, Dorissa and Tedwin Dorsette, Christopher and Angela Gayle, Pastor Valentino Campbell and Maranatha SDA Family, Adelaide SDA Family, Dr. Joseph Walker, Antonio Forbes, Yvonne Mckenzie and Family, Kenneth Cumberbatch and Family, Diedre Gibson, Dorette Ayensu, Sonia Rolle and Family, The Valley Boys especially the Black Hornets, Joahdel Hield and Family, Tiwian Hanna, Jerry Stubbs, Bernadette Heastie, Helena Ferguson and Family, Parents and students of Aunt Jenny's Academy, Coral Heights East Community and a host of other relatives and friends too numerous to mention.
Viewing will be held in the Perpetual Suite at Restview Memorial Mortuary and Crematorium Ltd., Robinson and Solider Road on Saturday from 9:00am to 5:00pm and at the church on Sunday from 9:30 a.m. until service time.