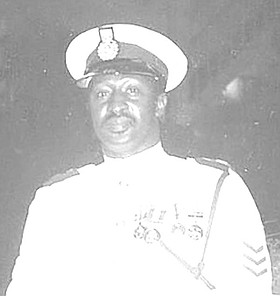 Retired Defence Force Chief Petty Officer Leroy McFarlane Whylly
unknown - unknown
Semi Military Funeral Service for Retired Defence Force Chief Petty Officer Leroy McFarlane Whylly, age 62years, of York Street will be held on Friday March 6, 2020 at 10: 00 a.m. at St. Mathew's Anglican Church, East Shirley and Church Streets. Officiating will be the Rev'd Canon Crosley Walkine assisted by Rev. Prince O.Bodie, Defence Force Chaplain and Rev'd Fr. Byrton Ward. Interment will follow in St. Matthew's Church Cemetery, Church Street.
Predeceased by his parents: McFarlane and Dorothy Whylly and his brother Reginald Whylly.
Leroy McFarlane Whylly's legacy will live on in the hearts of his children Son: Denzel and Daughter: Natasja; Sister-in-law: Joann Marie Whylly the widow of his dear brother Reggie who he regarded as his sister. Niece: Shhneka and her husband Jeron Rekley; Nephews: Reinaldo and Chrisbon; Grand-nieces: Tarae and Rielle
Adopted Brothers: Keith (Cher) Strachan, Alphonso (Ruth) Munroe; Adopted Nephews: Travano and Milon Strachan; Adopted Nieces: - Keiarra Strachan and T'Shae Sherman-Cooper; Godchildren:Ahmad and Keyshawn Strachan
Other Relatives and Friends: - Idris and Gwen Reid and Family, Fr. Joseph and Mary Mycklewhyte and Family, Edward and Gloria Strachan and Family, Lorraine Strachan and Family, Freda Rolle and Family, Michelle and The Joseph Family, Brian Pennerman
Desiree Ferguson and Family, A.G.R. Group of Companies.
He will be remembered fondly through Dorothy's brothers and sisters: The families of the late: Elizabeth and Drexel Armbrister, Edward and Inez Allen, James and Lucy Allen
Hubert and Kathleen Allen, (Inagua), Milton and Hazel Allen, Philip and Ethel Allens, Cecil and Winifred Allens.

Extended families: Canon Crosley Walkine and Mrs. Walkine; Fr. Chester Burton; Archdeacon James Palacious and Family, Members of St. Matthew's Parish Church family; St. Matthew's Usher Board; The Entire Pond Family; The White Family, the Crawford Family, The R. M. Bailey Class of 1976; The Royal Bahamas Defence Force, Warrant and Senior Rate Officers; The Maritime Cadet Family, Monique Forbes and Family, Christine Wong and Family; Nichelle Sweeting and family; Henry and Persis Crawford and Family; Diane Knowles and Family; Devin Mycklewhite; Wellington Carey and Family; Barbara Rodgers and Family; Cynthia Wells and Family; Marsha Bain and Family… and the numerous others whose lives would have been impacted by the life of our brother Chief Petty Officer Leroy "Stretch" McFarlane Whylly.
Relatives and Friends may pay their last respects at Butler's Funeral Homes & Crematorium, Ernest and York Streets on Thursday March 05, 2020 from 11:00a.m. until 5:00p.m. and at the church on Friday March 06, 2020 from 9:00 a.m. until service time.