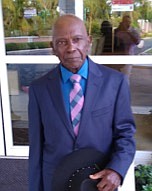 Presandieu Florvilus
unknown - unknown
DEATH NOTICE FOR:
Presandieu Florvilus
Age: 74 years old
A Resident of Gambier Village, Nassau Bahamas who passed away at The Princess Margaret Hospital on Monday 24th February, 2020.
Left to cherish his memories are his wife pre deceased: Marie Florvil, Children:Presalia Arthur, Ludith Louis, Otandieu Florvil,Lavila Armand, Previlus Florvil, Sisters: Charmante St. Charles, Lamercie Florvil, Nephews: Elisnor Belozier, Lejeune St. Charles, Roland St. Charles, Jean-Claude Florvil, Armantine St. Charles, Eliane St. Charles, Dumertil St. Charles, Clarelus Florvil, Nieces:Xante Florvil, Amelia Belozier, Anacse Flovil, In Laws: Wilter Louis, Amoncy Arthur, Louiselia Florvil, Grandkids: Islande Arthur Louis, Elda Arthur Louis, Alfred Arthur Louis, Gibson Arthur, Michael Arthur, Adia Arthur, Betty Louis, William Louis, Kathy Louis, Suzanne Florvil, Mathias Florvil, Yonel Florvil, Wilken Florvil, Luke Florvil, Josette Armand, Belizaire Armand, Ose Armand, Kerline Armand, Josiane Armand, Kenel Armand, Guerda Armand, Great grandkids: Timothy Louis, Jada Louis, Laila Balan, Ian Bastian, Abigail Louis, Bella Bastian, Gabtiella Louis, Shaniyah Adderley, Brithney Joseph, John Armand, Keisha Armand, Alejandro Eugene, Alexandro Charite, Sterlindjie Francois, Sterlindjina Francois, Djivenson Francois, Ouvanov Francois, a host of other relatives and friends including Frank Simon & family and Raymond Charles & family.
Funeral arrangements has been Entrusted to Rest On Funeral Chapel Limited and details will be announced at a later date.