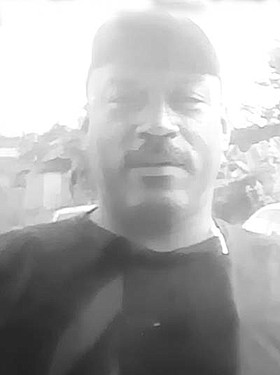 Mark Andrew Dames
unknown - unknown
Celebration Memorial For
Mr. Mark Andrew Dames, 52
of West End Avenue off Market Street and Baillou Hill Roads will be held on Saturday, March 7th, 2020, 10:00am at Zion Baptist Church, East and Shirley Streets, Downtown Nassau, Bahamas. Officiating will be Reverend Anthony A. Sampson assisted by Reverend Ulric V. Smith II, Reverend Steven Strachan, Reverend Sheila Strachan and other Ministers/Deacons Evangelists of the Gospel. Musicians: Bro. Wemsley Smith. Cremation was held.
Mark was predeceased by his father: Henry Dames; mother: Evangline Storr
Mr. Dames is survived by eight children: Jasmin, Yasmin, Steven, Sasha, Georgette, Andreya, Mark Jr, Dameko and Kyle; sisters: Lillis Wood, Rosemary Davis, Audrey Poitier, Sophie and Shameka Dames; brothers: Henry, Churlon and Ryan Dames; uncles Willmore Dames, Henry Glinton, Simeon and Maxwell Storr; aunts: Sylvia, Katherine, Yvonne, Verona, Andrea, Cessariae; brothers-in-law: Roger Davis, Dave Wood and Fritz Bootle; 31 cousins including: the Honorable Marvin Dames M.P, the Honorable Shannador Cartwright; 11 nephews; 9 nieces; 5 grandchildren; special friends including: Rose and Nette and Charles Lewis; Close Friends: Chauvis Newton, Papa Newton, Rico Scott, Yates, Cat, Solomon, Vincent, Wentworth, Saul, Frank, Danny, Deenie, Errol, Aaron, Hog, Conch, The West End Avenue Family, The Joyful House Crew and the Nassau Motors Staff, Jerome, Coakley; special thanks to Dr. Hubert Orlander and Wai and Lin of the Joyful House.
Please accept our apologies for those unmentioned due to space limitations. You will always be in our hearts.
Relatives and Friends may pay their last respects at Zion Baptist Church, East and Shirley Street, Downtown Nassau on Saturday from 9:00am to Celebrate the Life Mr. Mark Andrew Dames.
SERVICES ENTRUSTED TO SERENITY FUNERAL HOME AND CREMATORIUM,
" WHERE THE NAME IS SERVICE, AND YOUR LOVED ONE OURS."