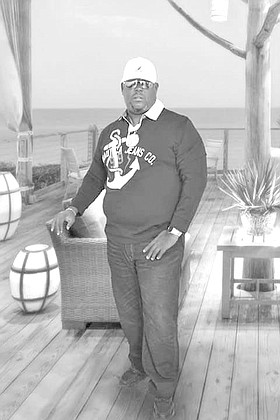 Marco "Polo" Nottage
unknown - unknown
Funeral Service for Marco "Polo" Nottage, age 40 of Venice Bay who died on Monday, February 17th, 2020 will be held on Friday, March 6th, 2020 at 11 a.m. at The Remnant Tabernacle of Praise, 309 Carmichael & Golden Isles Roads. Officiating will be Chief Apostle Dr. G. Elton Major. Interment will follow in Lakeview Memorial Gardens, J.F.K. Drive.
He is survived by his Mother: Louise Nottage Miller; Surrogate Father Mr. Kendal (Funky) Demeritte; Son: Marco Nottage Jr.; Daughter: Mar'Kasia Nottage; Sister: Nora Anya Brown; Brothers: Eyan Nottage, Kevin & Marvin Miller; Aunts: Apostle Eltamese Smith, Olga Duncan, Uris Nottage; Uncles: Pastor Isaiah Nottage & Deacon Gladstone Nottage; Nieces: Seaniqua Munnings & Malia Miller; Nephews: Tristen Hanna and Deangelo Nottage; A host of other Relatives & Friends including: Nicole Hutchinson, Dr. Dane Bowe, Doctors and Nurses of Male Surgical II ward at PMH, former Member of Parliament Michael Halkitis, former MP Dion Smith, Principal of Anatol Rogers High School Mr. Harcourt McCoy, Member of Parliament Vaughn Miller, Member of Parliament and Cabinet Minister Renward R. Wells, Member of Parliament & Cabinet Minister Mr. Desmond Bannister, former Prime Minister Perry Gladstone Christie, former Member of Parliament Jerome Fitzgerald, Opposition leader Mr. Philip Brave Davis, Honorable Dr. Daniel Johnson, Dr. Lynwood Brown, Minister of Social Services Mr. Frankie Campbell, former MP Fred Mitchell, Former MP Dion Smith, Former DPM Mr. Frank Watson, Mr. Kenneth (Redhot) Fountain, Mr. Kendal (Funky) Demeritte and family, Pastor Carlos Reid and family, Natalie Smith, Marvin, Trevor, Lorenzo, Natasha, Harranique, Lillian, Willamae, Judy, Kirk, Sophia Rodger and family, Nekeba Duncan and family, Christine Williams and family, Nathan and family, Javorne and family, Sharon Nottage and family, Jennifer Kemp and family, Residents from the Venice Bay community, Charlene George and family, Christine Nottage and family, Andrea Hepburn and family, Barbara Pratt and family, Atlantis Beach vendors, Stephen Nottage and family, Erick Wright, Emery Cooper and family, H.O. Nash Graduating class of 97, Andrea Moss, Gardenia Sweeting, Esther Bullard and family, Tamika Cime and family, Ms. Rosie Brown, Ms. Angela Bowe, Ms. Marilyn Dillet, Barbara Williams, Princess Lockhart, Tammara Sands and family, Sanctuary of the Redeem Church, Made Man Construction & Landscaping, The Distinguish League of Gentlemen Group.
Friends may pay their last respects at East Sunrise Mortuary, #183 Baillou Hill Road & Cordeaux Avenue from 10 a.m. to 5 p.m. on Thursday and again at the Church from 10 a.m. on Friday until service time.