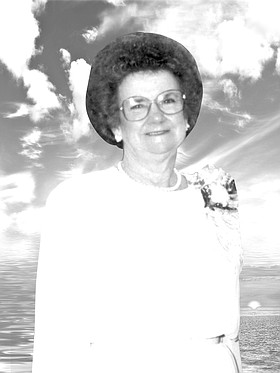 Lorna Moses
unknown - unknown
A funeral service for the late Lorna Moses, age 86, of Oxford Street, Nassau, The Bahamas, who died at her residence, on Friday, 28th February, 2020, will be held at Evangelistic Temple, Collins Avenue, Nassau, on Saturday, 7th March, 2020 at 10:30 a.m.
Reverend Dr. Gary Curry, Reverend Dr. Vaughn Cash and Reverend Oscar Moss will officiate.
She is survived by her husband, Reverend Dr. Vernon Moses, children, Timothy (Lana) Moses and Mary (Joseph) Mendez, and grandson, Zach Moses; sisters-in-law, Myrtle Sawyer, Viola Sawyer, and Laura Sawyer;
nephews and nieces, Molly (William, deceased) Roberts, Maxine Hayes, Florine Roberts, Elouise Porter, Daisy (Bill) Pitt, Philip (Kay) Roberts, Roy (Elisa) Roberts, Jeffrey Roberts, Margie (Rupert, deceased) Roberts, Keith (Dale) Sawyer, Edison (Joan) Sawyer, Arlene (Oral, deceased) Bethel, Freddie (Trina) Sawyer, Thomas (Alexandria) Sawyer, Reggie Sawyer, Ronnie Sawyer, Donnie Sawyer, Roddy (Claudia) Sawyer, Denise (James) McIntosh, John (Maria) Sawyer, and Tracey Russell.
She was predeceased by her parents, Stanley and Mamie Sawyer; mother-in-law, Gladys Saunders; siblings, Lloyd Sawyer, Clarissa Roberts, Marcel Sawyer, Joseph Sawyer, Peter Sawyer; brother-in-law, Eastbourne Roberts, and niece, Bonnie Sawyer.
Special thanks; we, the family, would like to express our sincerest gratitude to Rev. Dr. Gary and Sis. Myrtle Curry, Rev. Dr. Vaughn and Dr. Wendy Cash, Apostles Drs. Eugene and Rosetta Clare, Rev. and Mrs. Oscar Moss, Rev. Dr. Patrick and Sis. Charlene Paul, Mr. and Mrs. Wayde Sands, Mr. and Mrs. Donald Johnson, Minister Beverley Strachan, the Evangelistic Temple family, the entire Assemblies of God family, Dr. Lisa Rolle-Smith, Pat Patterson, Pastor Brad and Darlene Smith, Multi Discount Furniture family, Rosie Saunders, Ivy Gates, Gregory Gates, and all who have stood with us during this time. Thank you for blessing us with your thoughtfulness and kindness.
Arrangements by Kemp's Funeral Home Limited.