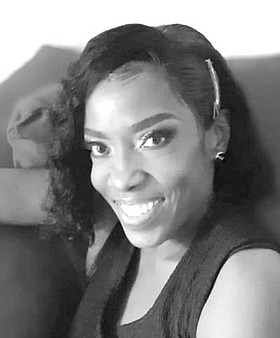 LAVERN "Fish" JOHNSON
unknown - unknown
Funeral Service for MS. LAVERN JOHNSON affectionately called "Fish" age 57 years of Caribbean Gardens Nassau, New Providence will be held on Saturday, March 7, 2020 at 10:00 a.m. at Mary, Star of the Sea Catholic Church, East Sunrise Highway, Freeport, Grand Bahama. Officiating will be Father David Cooper assisted by Deacon Nixon Lindor. Interment will follow at the Grand Bahama Memorial Park, Frobisher Drive, Freeport, Grand Bahama.
Precious memories will linger in the hearts of her mother: Lean Ann Johnson; children: Sinardo Deleveaux, Nadia Thompson and Breeiann Neely; sister: Paulette Stuart; brother: Kevin Johnson; brother-in-law: Joe Stuart; sister-in-law: Janice Johnson; nieces and nephews: Marvin Stuart, Joe Stuart, Lewis Stuart, Kevin Johnson Jr, Tashniqua Johnson, Thao Johnson, Christano Johnson, Oneil Johnson; aunt: Janet Johnson; uncles: Gregory Thompson, Paul Thompson, Prince Gordon and Mitchell Farquharson; cousins: Sharry Bain, Marco Bain, Michelle Johnson, Gregory Jr. , Shawn, Shantell, Paul Jr, Jermaine, Kelsey, Lavar, Delvon, Tia, Tommy, Arthur, Larry, Sweet P, Shatalia, Delroy, Ondre, Nubian, Tommy Jr, Tamaj, Demeka, Demia, Demeco Jr, Amber and Marco Jr.; grandnieces and nephews: Nathan, Jonathan, Ethan, Keziah, Isaiah, Kamahri, Tahirah, Hormonie, Makhsim, Don Elizabeth and D'nas Johnson; godchildren: Geann, Atraeo, Aiden; other relatives and friends: Brian Neely, Gina and Kenny Williams, Caren Carol, Sue Culmer, Alrean Cooper, Jenny Ingraham, Kenya, Andrew Dean, Twavri and Sherell Rodgers, Whitney Bain, Ivalee Pratt, Bowe Jessica Barr, Idger Roberts Sr, Idger Robert's Jr, Roslyn Turnquest, Shawn Larimore, Napoleon Williams, Arnold Lewis, Linda Heal, Pattie and Sherick Martin, Erma Munroe, Gea and Salomon Robinson, Tadd and Clemente Martin, Geno ( Pal )Jones, Parish Duncombe, Lynette, Velda, Nicole, Tiko, Myran, Petra, Christine Colebrooke, the staff of Taino beach, Xanadu, Island seas and Eagle Electrical and a host of other relatives and friends too numerous to mention.
Viewing will be held in the "Serenity Suite" at Restview Memorial Mortuary and Crematorium Limited, #11-A Coral Road, Freeport, Grand Bahama on Friday from 10:00 a.m. to 6:00 p.m. and at the church on Saturday from 8:30 a.m. until service time.