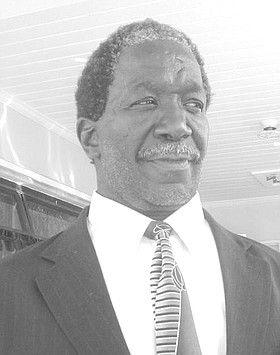 KENNETH EMMANUEL THOMPSON
unknown - unknown
KENNETH EMMANUEL THOMPSON, 69
a resident of Baker Street, will be held at St. Barnabas Anglican Church, Baillou Hill & Wulff Roads, on Saturday, March 7, 2020 at 1:00 p.m.  Officiating will be Canon Basil Tynes, assisted by Fr. Donald Kerr. Interment follows in Woodlawn Gardens, Soldier Road.
Left to cherished his memories are his children: Denise and Assistant Superintendent Debra and Ricardo Thompson; granddaughter: Janae Dean; Brothers: Randolph (Bernice), Eugene (Sharon), Earl (Pamela) and Samuel (Sharon) Thompson; Adopted Brother: Kisner Delva; Sisters: Prescola Kemp and Ms. Rose Johnson; Nephews: Randy, Steven, Roscoe, Fayne, Curzon, Jerome, Wendell, Philip, Nathaniel, Superintendent Earl (Tammy) and Dion Thompson (Carlene); Demetrius, Daniel and Brent Kemp, Kenneth and Jeffery Walcott and Arlington Munroe Jr.; Nieces: Evania, Danita and Reniece Thompson, Carmella Cheong, Crystal Bethel, Tracy Thompson, Elizabeth Ferguson, Elizabeth Thompson, Zaneta Charles, Brigitta Hall, Areka Thompson, Titania Arthur, Arlette Pennerman, Sherry Kemp, Supt. Chrysln Skippings, Patricia Wells, Antoinette Storr (Leroy), Sonya Rutherford, Davania Thompson and Patria Armbrister, Charmaine Munroe, Alitonya Byer, Alkeisha Munroe, Akera Brown, Kisnae Arthur, Kizzia Delva; Sister-in-law: Marjorie Thompson; Cousins: R/Insp. Muriel Almonard, Samuel, John and Neville Huyler, Katrina Wells, Charles Pratt, Michael Thompson, Laverne McPhee, Basil Johnson, Stephanie Edwards, Gloria and Longley, Laverne McPhee, Bernadette Rolle, Stephanie Edwards, Andrea Francis, Paulette Godet, Bradley Russell, Henry Poitier, Edna Pratt; Numerous other relatives and friends: Sally Dill, Millicent Miller, Patricia Coakley, Fred McKinney, Dudley 'Doc' Gilbert, Clifford Humes, Philip Barton, Charles Clarke, The Beckles family, Arlington Munroe Sr., Robert Coakley, Belinda Wilson, Geoffrey Rolle & Family, Bowe Family, Elliott Family, Allen Family, Cecil Horton & Family, Philip Barton, Fletcher Ferguson, Leona Miller, Lilis Strachan, Gwendolyn Evans, Mrs. Verna Elcock & Family, Gorgeous Christine & Family, Alberta Hall, Vernon Campbell, Henry Curry, Franky Stirrup, Jarrett Dean & Family, Heskitt & Paulette Dean, Earl Curry, Llewellyn Astwood, Leonard Neely Jr., Elwood Lundy; Rodney, Lloyd, Patrick, Stephanie & Phillippa McKenzie; Mr. & Mrs. Everette Strachan, The Dialysis Unit, PMH, Intensive Care Unit, PMH, Demeritte's Funeral Home, Simmons Heavy Equipment, Canon Basil Tynes, Pastor Vernon Clarke, Clinton Clarke, Hall family, Winifred Butler, St. Barnabas Parish, Peter & Brougham Street Community, Baker Street Community, Market Street and Wulff  Road Community, Westwood Christian School, Miami, Florida; Financial Crime Unit, Royal Bahamas Police Force, Bay Street Garage, and a host of other relatives, friends and clients too numerous to mention.
Friends may pay their last respects at Demeritte's Funeral Home, Market Street, from 12-6:00 p.m. on Friday & on Saturday at the church from 12:00 noon until service time.