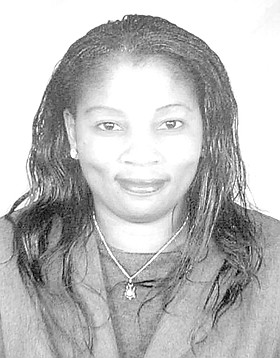 Juanita Frances Russell
unknown - unknown
Funeral Service for Juanita Frances Russell, age 55 of Gleniston Gardens who died on Wednesday, February 19th, 2020 will be held on Saturday, March 7th, 2020 at 10 a.m. at Commonwealth Mission Baptist Church, Commonwealth Boulevard, Elizabeth Estates. Officiating will be Pastor Jerry Josey. Interment will follow in Fox Hill Cemetery, Fox Hill Road.
She is survived by her Daughter: Nina Angela Nairn; Two Sisters: Sharon Russell and Alexandria Diana Rodgers; One Brother: RBPF #5043 Police Officer Ricardo S. J. Russell; Sister-In-Law: Brenda-Lee Russell;  Two Brothers-In-Law: Perez Rodgers and Shawn Serrette; Nieces: Re-Khanna and Re-Stella Russell, Shanel Serette, Sharday Bethell, Shaine Bethel and Shardon Lewis; Nephews: Foster and Staniel Russell, Re-Naldo Russell and Shawn Serrette Jr.;  Nephew-In-Law: Andrew Lewis; Grandniece: Samara Russell; Grandnephews: Foster Jr., and Sorin Lewis; Aunt: Rachel Edgecombe; Aunt-In-Law: Rose Edgecombe;  Numerous 1st, 2nd, & 3rd Cousins including: Sherrlyn North-Fowler, Sidney North, Police Constable #853 Victor Taylor, Peter Edgecombe, Able Seaman Charles Jr., Police Constable Colintino Edgecombe, Monique Adderley, Bridgette Bodie, Tracy Hick, Dude Jr., Maddison and Anthony Edgecombe, Dequan, Sarah and Levi Lowe Jr., Charles, Micheal, Captain Stephen Russell, Christopher, Keith and Vincent Russell, Monique Farrington, Antoinette Russell, David Bethel, Paul, Andrew, and The Rev. Theodore Thompson, Astrid Fraser, Dr. Darren Donaldson and Family, Ernest, Garth and Warren Fraser and Families, Patricia Taylor, Freddie Kemp and Family, Luther and Kingsley Edgecombe and Family, Allison, Marsha, and Sheree Thompson, Ena Stubbs, Ellen Beatrice Gordon, Norma Ash, Dino, Shawn and Warren "DOC" Thompson; special friend Rayford Rox;  A host of other relatives and friends of the family including but not limited to: Julian Nairn and the Nairn Family, The Storrs Family, The Seymour Family, The Stubbs Family, The Thompson Family, The Rox Family, Mrs. Rodgers and Family, Kaye and Family; Special Thanks goes to: Pastor Jerry Josey, Commonwealth Mission Baptist Church, The management and staff of Bahamas Technical and Vocational Institute (BTVI) as well as Aetos Holdings. 
Friends may pay their last respects at East Sunrise Mortuary, #183 Baillou Hill Road & Cordeaux Avenue from 10 a.m. to 6 p.m. on Friday and again at the Church from 9 a.m. on Saturday until service time.