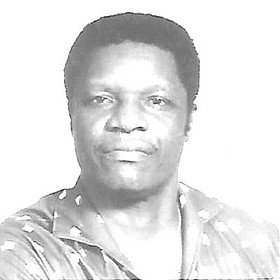 Fritz Gerald Webb
unknown - unknown
Funeral Service for Mr. Fritz Gerald Webb, age 85 years, a resident of Arthurs Town, Cat Island, will be held at 10:00 a.m. on Saturday March 7th, 2020, at Christ The King Anglican Church, Ridgeland Park west. Officiating will be Archdeacon Kingsley Knowles, assisted by other members of the Clergy. Interment will follow in the Woodlawn Gardens, Soldier Road.
Left to cherish his love and kindness are his: Children: Elaine, Michelle, Lisa, and Fritz Jr.; Sister: Betty Webb Stubbs; Adopted Sister: Shirley Pearson; Sister-in-Law: Joanne Webb; brother-in-Law: Revis Stubbs; Nieces: Nicole Scott, Rhonda Smith, Dennese Knowles, Romaine, Claudia, and Jodie Webb, Yvette Adderley; Nephews: Sean, Keith, Neil, and Duke Stubbs, Denazo Ingraham, John Webb Sr., Rev. Dr. Ian Webb, Ken, and Marvin Webb, Abdul Armbrister; Grandnieces: Danisha Scott, Lasantra Knowles, Sharika, Janiece, Candice, Ariel, Johnnian, and Ashley Webb, Alicia Greene, Ianette and Keithra Stubbs, Briah Smith, Raven Miller, Danaya Ingraham and Kendeira Webb; Grandnephews: Rashad Knowles, Iking, Quinterro, and Revano Stubbs, Diego Duncombe, Ian, Triston, and Derren Moultrie, Braydon Smith, John, Ashton, Ken Jr., and Kennedy Webb; Cousins: Nathalee Bonimy, Sheba Webb, Albeana Seymour, Elijah (Leah), Levi (Maeoni), Cleophas (Shari) Webb, Mack (Eloise), Henry, Milton, Clinton (C.K.), Bernard, Basil, Moses, Franklyn, Lambert, Dougie, and Duke Smith, Irene Rolle, Dorothy Moultrie, Madge Smith, Florinda Smith and Clayton Newbold; God-child: Cynthia Archer; Relatives: Inez McKenzie, Dr. Ingrid Bonimy, Alworth Rolle, Mavis Johnson, Leah O'Brian, Daisy Armbrister, Carnetta Seymour, Victoria Flowers, Eselean Bowe, Wilfred Hepburn, Elveton Russell of Deerfield Beach, Fl., Paul King, Hannah Dames, Shirley Ambrose, Wife and children of the late Felix Russell, Children of the late: Drucilla Poitier of Deerfield Beach Fl., Eleanor Larrimore, Zona Moncur, Edna Russell, Thomas Rolle, Doreen Pratt, Gladys and Telcene Webb, Emily Rolle, Rosie Collins, Agnes Jolly, Sydney and Lester Russell, Estelle Lloyd, Julia Smith, Avis and John Armbrister, Stanley, Sharlene, and Tara Webb, Hugo Paige, Tanya Webb-Pickstock, Jenny-Mae and Phillip Armbrister, Rhoda Armbrister, Lyndon Hepburn, Angel Cash, Dorothy Bowe, Dorothy Horton, Maxwell and Janice Dean, Beautine King, Pearl Adderley, Ethlee Gibson, Robert, Lemone, and Elmore Seymour, Milcah Sullivan, Felix and Eula Larrimore, Eulie LaFleur, George Delancy, Shervin Armbrister, Wright Family, Dean Family, Miller Family, Hepburn Family, McKenzie Family, Cleare Family, and the communities of Arthur's Town, Orange Creek, Dumfries, and the King Family of Wilson Bay, Cat Island. The family would like to extend a special thank you to the staff of the McClennan Ward of the Geriatric Hospital. We love and appreciate you. God bless. Also, a special thanks to Archdeacon Kingsley Knowles, Fr. B.J. Smith, Fr. Chester Burton, Fr. Hugh Bartlett, and Fr. Ernest Pratt.
Relatives and friends may pay their respects at Cedar Crest Funeral Home and Crematorium Ltd, Robinson and Baillou Hill Roads, on Friday from 12:00 noon to 6:00 p.m., and at the church on Saturday from 9:00 a.m., until service time.