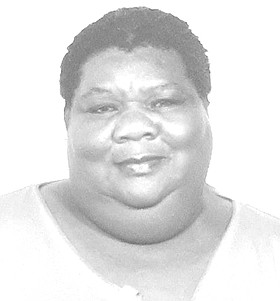 Debra Elgrenetta Brown–Henderson
unknown - unknown
Funeral service for the late Mrs. Debra Elgrenetta Brown–Henderson age 59 years of #30 Saffron Street, Pinewood Gardens will be held on Saturday, March 7th, 2020 at 11:00 a.m. at Mt. Nebo Baptist Church, Marshall Road. Officiating will be Pastor Agatha Cleare assisted by other Associate Ministers, Deacons and Evangelists. Interment will follow in Lakeview Memorial Gardens, John F. Kennedy Drive and Gladstone Road.

Loving memories will remain in the hearts of Husband: Chief Correction Officer Patrick Henderson; Daughters: Zharia Henderson and Precious; Brothers: Nathaniel (Denise), Roderick, Alexander (Charisse), Dr. Lynwood Brown; Sisters: Delphine (Sidney) Thompson, Stephanie (Wadye) Hepburn; Valarie Brown, Adopted Sister: Marsha Poitier; Adopted Mother: Mrs. Eloise Cooper; Brothers in law: Robert (Joan) and George (Carla) Henderson, Anton (Kate Iane) Williams; Sisters in law: Ruth Sands, Paulette Ward and Mary Pratt, Michelle Brown and Valarie Brown; Uncles: Rev. Dr. Hubert Fowler, Granville Brown, Lenor, Joseph Scott, Edison Colebrooke; Aunts: Pandora Colebrooke, Una Sweeting, Ruthmae Boniby and Shirley Brown; Nieces: Waydel, Natalia, Diamond, Cherish, Waydesha, Rodesha, Milisha, Tracey, Lateria, Mia, Sheikela, Lezley, Lavandra, Mikela, ANaiya, Portia, Melissa, Anastacia, Claudette, OKel, Tenille, Georgentina, Elijah, Antonia, Antonique; Nephews: Demetrio, Shaunrick, Cordero, Delron, David, Stefano, Nathaniel Jr., Krispin, Kyle, Shalon, Javard, Atwell Jr., Arsenio, Adam, Garfield, Quinn, Liam, Rhyse, Logan, Ryan, Dwayne, Ramon, Creswell, Robert, Jr., Darrol I, Kelsey, Jordan, Johnathon, Owen, Robin, Xavier, Elon, Zion, Malik, Georgio; God Children: Frankeisha, Waydesha, Taniz, Hannah; Numerous Grand Nieces & Nephews; Cousins: Margaret, Agatha, Donnalee, Sophia, Ginger, Kaylene, Jackie, Zoletta, Phillipa, Samantha, Dorothy, Malester, Debbie, Ericka, Ivy, Betty, Sharon, Landora, Tryanna, Deann, Lilian, Gail, Lily, Laverne, Ted, Silas Nay, Tony, Dillon, Shawn, Huey, Lynden, Larry, Floyd, Kasson, Leonard, Karaganda, Edison, Kishner, Barry, Yvonne, Shaquille; Other relative's & friends including: Virginia Braynen & Family, Ellen McKenzie & Family, Gale Pedican & Family, Joy Bosfield & Family, Moreen, Idamae, Lennamae Missick & Family, Gale Pratt & Family, Patricia Braynen, Elosie Cooper, Emma Pickstock & Family, Wilard Hepburn & Family, The Williams Family, Dorothy Francis & Family, Swaby's Family, Telma Thompson and the Thompson Lane Family, Joycelyn Johnson and Family, Judy Gayle, Garnel Lowe, Esther, Roderick Armbrister, Johnathon Brennen & Family, Andrew Dolrsette & Family, Barbara Thompson & Family, The Tiger's Den Family, Rev. Charles Rolle & Family, Godfrey Brice & Family, Dudley Pratt & Family, Kalie Symonette & Family, Sidney Smith & Family, Valderine Deveaux & Family, Claudette Johnson & Family, Robertha McKenzie & Family, Dianne Stubbs & Family, Rita Curtis & Family, The Saffron Street Community in Pinewood gardens, Mt Nebo Baptist Church Family, The Bahamas Department of Correctional Services and many others too numerous to mention.
Family requested that all persons attending the funeral service to wear bright colors
Viewing will be held in the Halcyon Suite at Restview Memorial Mortuary and Crematorium Ltd., Robinson and Solider Road on Friday from 10:00am to 6:00pm and at the church on Saturday from 9:30 a.m. until service time.