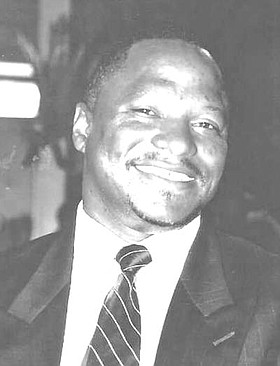 Cecil John Smith
unknown - unknown
Funeral service for the late Mr. Cecil John Smith age 58 years of Breadfruit Street, Pinewood Gardens will be held on Saturday, March 7th, 2020 at 10:00 a.m. at St. Francis Xavier Cathedral, West Street North. Officiating will be Father Glen C. Nixon. Interment will follow in the Catholic Cemetery, Tyler Street.
He was predeceased by his Mother and Father: Cynthia Smith and Israel Smith; sister: Hazel Penn; brother: Patrick and Leekino Smith sister-in-law: Naomi Smith;  
Left to cherish his memories are his Daughters: Tesa-Ann and Tazie Smith; Sister: Nadia Smith; Brothers: Delton Bannister, Ricardo, Sisters in Law: Raquel, Stephanie Smith; Nieces: LaToya Smith-Rolle, Shavantai Smith, Ashley Penn-Nixon, Rickeisha, Reagan and Rickera Smith, Naya Neely, Stephanique and Cantrell Pinder; Nephews: Sergeant 2706 Corey Rolle, Ricardo "Valentino", Patrick Jr., Rinardo and Keano Smith, and Marine Seaman Raynardo Pinder;  Niece in Law: Wandrea Rolle;  Nephews in Law: Retired sergeant 1575 Byron Rolle and Dominic Nixon Grand Nieces: Kiarra and Bynaj Rolle, Gerniyah Bethel and S'breah Rolle; Grand Nephews: Keron, Corey jr. and Cailen Rolle, and Blake Nixon; Aunt: Elizabeth Brennen; Uncle: Arthur Brennen; Cousins: Doreen Taylor, Michelle Garnell, Sharmine and Barrington Brennen, Randy Seymour Sr., Michael, Paul, David, Carlton, James, Tino and Creco Brennen, Robert Jr. and Robertha Sweeting, Antonio and Amelia Hall; God Children: Clifford Storr jr., Shakera Curry, Jeter and Geordell Burrows; God Siblings: Joanne Simmons-Johnson and Vashti Sands; Other Relatives and Friends: George Burrows and Family, Claudia Ferguson and Family, Shavone Dean, Gurth Knowles, Dr. Drexel Williams, Michael Newton, Roosevelt Mackey (Yabb), Wanita Rolle, Orthnell McKenzie and Family, Deon Darville, Herbert Sands, Shenell Roll,  Marsha, Danny, Donna, Coco, Chrissy, Neil, Donnell, Ingrid, Debbie, Sandra Ferguson, Stephany Caroline and many others too numerous to mention.
Viewing will be held in the Celestial Suite at Restview Memorial Mortuary and Crematorium Ltd., Robinson and Solider Road on Friday from 10:00 am to 6:00 pm and at the church on Saturday from 8:30 a.m. until service time