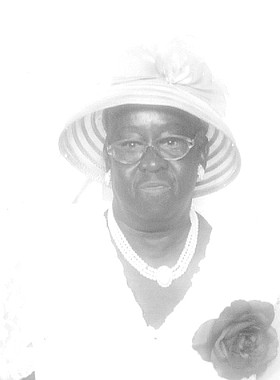 Barbara Eloise Butler
unknown - unknown
Celebration of A Gem Service
For
Barbara Eloise Butler Age 43 Years of #35 West Avenue, off Carmichael Road will be held on Saturday, March 07, 2020 at 10am at Bethel Baptist Church, Meeting Street. Rev. Dr. Timothy Stewart, assisted the Associate Ministers will officiate, burial will be in the Church Cemetery, Meeting Street.
Barbara is preceded in death by her:
Father: Ronald Butler;
Mother: Muriel Munroe;
Sons: Anthony Curry and Akel McKenzie;
Daughters: Mary McKenzie and Muriel Fernander;
Brothers: Vernal and Rudolph Butler;
Special Friend: Steve McKenzie;
The Radiance of this "Opal of A Gem" will always glow in the hearts of her:
Two Daughters: Theresa Bonaby (Wilfred) and Natasha Johnson;
Seven Grandsons: Claudell Sr. and Samuel Johnson, Antharn Sr. (Kim) and Alexis Bonaby (Marisol), George II and Jonathan Fawkes and Cebric Bethel;
Eight Granddaughters: Nyosha and Anthastasia Bonaby, Shonika (Jamall) and Rosita McKenzie, Georgina Sturrup (Shannon), Shantell Fawkes, Joyclyn and Julie-Ann Johnson;
Thirteen Great Grandsons: Claudell Jr. and Coddero Johnson, Antharn Jr. and Amarion Bonaby, Nathan and George Fawkes III, Lavourne, Jarvis and Nicholas McKenzie, Crispin, Christin and Christopher Cooper and Rodney Curry;
Thirteen Great Granddaughters: Ashley and Ariah Bonaby, Jasmine, Yasmine and Shervinique Brennen, Shelina, Tania and Georgina Fawkes, Christina Cooper, Tornasia Sands, Nickayla and Petar-gaye Rodney and Gabrielle Smith;
Two Great, Great Grandsons: Hakeem Bonaby and D'Antae Cartwright;
One Nephew: David Butler (Betsy);
Five Nieces: Daphne Evans of Freeport Grand Bahama, Ingrid Kerkulah (Francis) and Valerie McKenzie (Patrick), Shirley Smith and Sandra Darling;
Nine Grandnephews: Damian and Dorian McKenzie, Desmond (Shakeira) and Dexter Kerkulah, Emmerson and Marvin, David Jr., Valinco and Elvis;
Four Grandniece: De'Nia McKenzie, Nishka, Agatha and Yvette;
Cousins: Barbara, Everlyn, Calvin and Dwight Thompson, Sandy Randolph, Bridgette Peterson of Miami, Florida, Joan Knowles, Arlington (Crab) Brown, Marsha Mason, Pandora Munroe and their families, the Mason Family, the families of the late Maude Walker of New York, the late Howard Munroe and the Late Menna Nicholls;
Other Loving Family and Friends Including: The Goodridge, Rolle, Cravatt, Martin, Sawyer, Bain, Evans, Whylly, Bonaby, Ronveaux, Mendez and Feuz Families, Delores Delancy, Raymond and Addie Winder, Mrs. Esther Winder-Storr, Helen Bain, Delores Dean, Lana and their families, Pastor Timothy and Sharon Stewart and the Bethel Baptist Church family, the Rosewood St. families.  Sleep on take your rest, we love you but Jesus loves you best.
Special Thanks To: Harry McPike and family and Lyford Cay International School.
Public Visitation will in the Emerald Memorial Mortuary, Wulff and Pinedale Roads on Friday, March 06, 2020 from 1pm to 5pm and on Saturday, March 07, 2020 at Bethel Baptist Church, Meeting Street from 9am to service time.
Guest book can be signed at www.emeraldmemorialmortuary.com