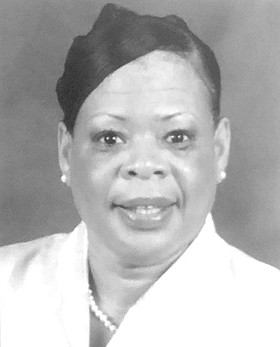 Ruth Patrice Gertilus
unknown - unknown
Funeral Service for Mrs. Ruth Patrice Gertilus, age 55 years, a resident of Bowe Avenue, Montell Heights, and formerly of Freeport, Grand Bahama, will be held at 11:00 a.m., on Saturday January 25th, 2020, at New Covenant Baptist Church, East West Highway. Officiating will be Bishop Michael Ferguson, assisted by Pastor Dean Wells Jr. Interment will follow in Woodlawn Garden, Soldier Road.
Patrice was predeceased by her son: Reno Holbert;
She is survived by her husband: Nicolas Gertilus; sons: Sargent Freddie Lightbourne Jr. and Shonari Lightbourne; daughters: Tasae Lightbourne and Thereze Lightbourne; grandchildren: Peython Lightbourne, Skylar Lightbourne, De'arjanae Dean, Quanajia, Dre'ah Cary, Daron Rolle, Tanari Lightbourne, Kerreno Noah Holbert and Sh'Kyri Higgs; brothers: Deacon Manasseh Hepburn, Deacon Vincent Holbert, Patrick Holbert and Neil Holbert; sisters: Minister Eleanor Riley, Antoinette Holbert, Patricia Cox and Joan Holbert; daughters-in-law: Acribba Lightbourne, Theus Lightbourne and Kerlyne St. Preux; Aunts: Ms.Ruby Gordon and Mrs. Vernice Nottage; Nephews: Ryan Dion Hepburn, Normal Smith Hepburn, Manasseh Hepburn Jr. Mario Holbert, Maxwell Holbert Jr., Sean Holbert, De' Marko Holbert, Marcus Holbert, Anthony Holbert Jr. Ricardo Riley, Zchavargo Riley, Beron Holbert, Barnard Harris, O'Neil Holbert, Dominique Holbert, Stario Holbert and Shakeal Holbert; Nieces: Marline Hepburn, Rhandreia Hepburn, Vanessa Hepburn, Rshemia Hepburn Ingraham, Andura Hepburn, Raynell Hepburn, Nurse Kayshulla Hepburn, Lisa Holbert, Melveasa Holbert, Dena Holbert, Denise Holbert, Shaniqua Riley Dawkins, Schakera Riley-Hamilton, Sharnell Holbert McKenzie, Kimberly Holbert, Darrissa Cox, Donell Cox, Derecka Cox and Carlissa Grant; Cousins: Geleta Foote, Ruthmae, Rochelle, Erma, Beverly, Althamae, Jennifer, Carolyn, Rodney, Derek, Angela, Vernita, Othniel, Trevor, Devon, Floyd, and Numerous family and friends and all of those she loved and touched deeply, too many to mention; Sisters-In-Law: Maryjane Hepburn, Estherlyn Holbert, Donnamae Holbert and Lilymae Holbert; Special Thanks: Pastor Dean Wells and Pentecostal Church of God in Faith Church family, Bishop Michael Ferguson and International Revival Fellowship church family, New Covenant Baptist Church, Mr. Darrin Woods and the Hotel Union executive team, Atlantis Coral and Beach Tower Housekeeping Department, Carrimae Brown, Brenda Smith, Mr. Sherman Smith, the Montell Heights Community, the Lightbourne family, Mr. Shelton Higgs Jr. and family, the Wemyss family, Lyford Cay Club, Krystle Miller and family, the Kemp family, the Hepburn family, GHS class of 2003, The Cove Atlantis (Sip Sip Restaurant), Elicie Louise, Dania Nicolas, Bernice Louis, Anne St. Juste, the Grant Family, the Carey family, Goddie Cleo and family and a host of other relatives and friends too numerous to mention.
Relatives and friends may pay their respects at Cedar Crest Funeral Home and Crematorium Ltd, Robinson and Baillou Hill Roads, on Friday from 12:00 noon to 6:00 p.m., and at the Church on Saturday, from 10:00 a.m. until service time.