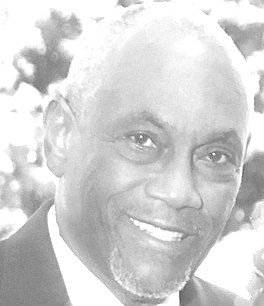 Retired Sgt. 292 Carl Renwick Lynch Sr.
unknown - unknown
Funeral Service for the late Retired Sgt. 292 Carl Renwick Lynch Sr., aged 86 years, of Datura Avenue and formerly of Deigo Martin, Trinidad will be held on Tuesday January 21st, 2020 at 10:00 a.m. at Holy Cross Anglican Church, Soldier Road. Officiating will be The Rev'd Canon Peter Scott and Rev. Deacon Philip Heild assisted by Reverend Dr. James Moultrie, Reverend Chitan Thompson, Reverend Richard Woods and other members of the Clergy. Cremation will follow.
Left to cherish his fond memories are his loving wife of 57 years: Teresa (Tressie) Lynch nee Taylor. Children: Joann (Carlton dec.) Jones of Trinidad and Tobago, Carl (Delice) Lynch Jr., Nadine (Bishop Jeffery) Knowles, Carla (Barry) Sweeting and Tonya (Fr. Angelo) Wildgoose. Adopted Children: LaVorn Taylor, Michelle Demeritte, Latoysa Walkes, Kelly Rolle, Shelley and Beverly Archer, Decarlo McPhee, Reginald Saunders, Milya Yallop, Dellarece Rolle. Grandchildren: Jonelle Jones, Cameron Lynch, Donovan Lynch, Aaron and Anya Wildgoose from New Jersey and Brandon Sweeting. Adopted Grandchildren: Brittany Seymour, Danielle Turnquest, Kyle Fernander, Rev. Chitan Thompson, Ricardo & Ricario Walkes. Pre-deceased by his Brothers: Randolph and Mervyn Lynch; Adopted Brother: Preston John. Sisters-In-Law: Alpha (dec.), Cynthia and Marie Lynch from Trinidad & Tobago, Nelwlyn John from New York, Barbara Taylor, Marilyn Knowles, Antoinette Lightbourne, Judith Cartwright, Joyann and Paulette Taylor. Brother-in-Law: Frederick ( Dorothy) Taylor Aunts and Uncles: Predeceased by Ephriam, Alexander, Olive, Rhoda Lynch, Ada Pugh and Lousie Lynch, Ernest, George, Malcolm, Rodrick (Charmaine) Loobie, Olga Loobie, Rita Bradshaw and Violet. Adopted Uncle: Jonathon Pierre. Nieces and Nephews: Eastlyn (dec.), Patsy (Rodney) Swammy, Susan (Johnny) Weekes, Gillian, Ray (Karlene), Therese & Ariane Lynch, Marcus (Shelly-Ann) Lynch, Carrie-Ann McLeod, Bobette Goodman, Fitzgerald, Dwayne & Kendra Taylor, Jules and Jihan (Crystal) Knowles, Kenneth (Desiree), Frederick Jr, Mario, Carlos, Farrouk, Romano, Annicha Taylor, Keila Butler, Danae ( Aaron) , Dawnette Gibson, Dr. Kelley (Kohfe) Miller, William Jr & Peter ( Aysia) Cartwright, Joy Roger, Jonathon Burns, Medina & Natasha Taylor, Carldaron & Anthon Gardiner, Beretta Scott, Harold Jr. & Jeremy Lightbourne, Mark (Lisa) Taylor & Brian Taylor, Latoya (Wayne) Francis Godchildren: Marvin Fox, Keith Glinton & Annie Rolle. Cousins: Sylvia (dec.), Peter (dec) Lynch, Jean Guevara, Vincent, Phyllis, Aldric (dec.), Cyril (dec.), Charles (dec.), Gloria, Winston (dec.) Pugh, Irma, Carlye (Glenrose) Lynch, Wilma Braithwaite, Gwendolyn Snaggs, Jennifer, Beverly, Joanne, Patrick, Frankie-John Loobie, Cynthia (dec) Loobie, Michelle, Michael, Maureen, Marcia Loobie, Dianne Loobie, June, Victoria and Vaughn Loobie, June , Hyacinth, Earl, Clyde, Jackie (deceased), Marvin (dec) Loobie, Joyce (dec) Loobie, Shiela Cox, Dr. Robert (Beverly), Francis (Rose) Taylor, Odessa Hayward , Leon & Robert C Taylor, Connie Oliver, Grace Taylor of New York & their families; A host of Special Friends including: Claude Toppin, Sylvester George, Vincent Charlton, Basil Cumberbatch, Dorie Yearwood & Family, Sandra Campbell & Family, Laurent & Melissa Bassa & Family, Sandi (Nelson) Bowleg, Claretta Duncombe, Betty Young, Herbert (Roc) Glinton & family, Ivan & Paula Holder & family, Burtel & Barbara Holder & Family, Davy & Stephanie Rolle & family, Anna Smith & Family, Antoinette Rolle & family, The Right Reverend Laish Boyd Bishop of the Diocese of the Bahamas and Turks Caicos Islands & Mrs. Joanne Boyd, Charles & Rita Sweeting & family, Margaret Smith, Kingsley & Ruth Robinson & family, The Marshall, Andrews and Benjamin Families, Noello Corbell & family, Patrick & Eula Edwards, The South Beach Estates family including Eric & Laurelda Burrows & family, Jerry Meadows & family, Kirkwood Paul & family, Patsy Dupuch & family, Kevin Miller & family, Neville & Avis Curtis, Pastor Dianne Coverly & Family, The Special friends from Trinidad: Kendall, Eric, Derick, the Merry Tones Steel Orchestra and the Ice Water Pan Ensemble, Jean Troja. The Trinidad & Tobago Association, The Bahamas Orchid Society, The Bahamas Horticultural Society, The Stepping Stones Quilting Guild, St. Anne's Classes of 1979, 1980,1986 and the Queen's College Class of 1991, Shirley Cooper and the Western Senior Old Scholars Association, The Staff of CIBC Firstcaribbean Bank, Unique Vacations Ltd, The Bahamas Football Association and the Dynamos Football Club, The OMEGA PSI PHI Fraternity, Inc., The Bank of Nova Scotia Retired Staff, The Police Association of the Royal Bahamas Police Force, The Hon. Jeffery Lloyd and the FNM South Beach constituency, The Reverend Canon Peter Scott and The Holy Cross Family, The ACW of Holy Cross, Fr. Eric Miller, Fr. Travis Fernander, Delores Butler & Dianna Rolle, The Church Of God Of Prophecy – Ernest Street Church family, Pastor Dwight & Pamela Ferguson & Family, The COGOP - Elizabeth Estates Church Family, Brenda Cunningham, Pastor Timothy & Min. Deanne Johnson & the Sunday Lunch Bunch, The COGOP National Women's Ministry, Bishop Dr. Franklyn and Dr. Rowena Ferguson & the COGOP Church Family. Caregiver: Nova Graham, The Nurses of the PMH Private Medical, Drs. Agreta Carey, Stephens, Frederick Smith and the Doctors of A&E - PMH.
Friends may pay their last respects at Bethel Brothers Morticians & Crematorium #44 Nassau Street on Monday from 10:00 a.m. to 6:00 p.m. and at the church on Tuesday from 9:00 a.m. until service time.