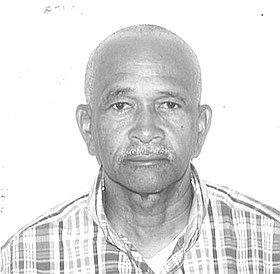 James "Jimmy" Wilfred Knowles
unknown - unknown
Funeral Service for James Wilfred Knowles "Jimmy" age 71years of 8th Terrace, Centreville, who passed away at Princess Margaret Hospital, on January 06, 2019 will be held at 10:00 a.m. at St. Matthew's Anglican Church, East Shirley and Church Streets. Officiating will be Rev'd Canon Crosley Walkine assisted by Rev'd Fr. Byrton Ward. Cremation will follow.

Jimmy is predeceased by his sister Mary Knowles
Left to mourn his passing and cherish the fond memories of his life are his Children: Tiffany Deshun Knowles, Petula Aretha (Roderick) Forbes, Chenir Jimcardo Knowles, Jamal Emilio Knowles and Aramantha J. Hepburn.; Grandchildren: Bradston Knowles, Vanessa Smith, Ian Williams, Shandanique Knowles, Halle Bowe, Kerwin Scriven, Chenira Knowles, Zion Munroe and Chenir Knowles Jr.; Great Grandchildren: Destinique Poitier, Demarco Smith, D'Karri Smith, Marcus Smith, Joshua Weech, Sayoma Ferguson and Braddia Knowles; Brother: Daniel Knowles; Sisters: Linda "Lindy" Knowles-Cooper, Barbara Cleare and Wilma (Cedric) Allen; Nieces and Nephews: Troy (Bridgette) Ward, Demethera (Gregory) Brown, Deborah (Deltario)Forbes, Collean (Wendell)Stubbs and Chantell (Randy)McPhee, Deniro Cooper, Chernenka (D'Angelo) Brown, Darius Rolle, Kellen (Daniella) Knowles, Jarrod (Dionne Seay Knowles), Miljail Knowles, Sheldon, Angelie and Tera Burrows, Aniqua, Cedrica and Elon Allen, Denzil Cleare and Dianne Rolle; Grand Nieces and Nephews: Crystal (Keino) Morris, Troy Jr., Father Bryton Ward, Avardo and Grenique Brown, Natillia, Michael Jr. and Cambria Rolle, Debroncya Archer, Rayvonne and Wendario Stubbs and Dashon Edgecombe, Deonte, Deneya, Delrio, Devanti Cooper, Dariantye' Rolle; Great Grand Nieces and Nephews: Kayleigh Morris, Quadeissha Brown, Aden Clarke, Mya, Kya and Kye Rolle and Decacio Smith; Aunt: Rebecca Knowles - Millerton, Long Island; Cousins:: Hayward, Junior, Hazel, Clarise, Alicia, Naomi, Flo, Theodore Kemp, Godfrey, Beryl, Sheryl, Charlene ,Kevin, Shervin, Steven and Kevin Knowles, Alice (Stephen) Miller, Edith Beckford and family, David, Ena and Morgy Adderley, Roy Gibson, Shirley Thompson, Joseph and Angela McPhee and family, Gloria (Joshua) Major, Birdie Poitier and family, Blossom Wilson and family, Arinepha, David, Holly, Ronald Wilson, Shirley Thompson, Henry Taylor, Elsie Adderley.
Other Relatives and Friends: Sam and Estella Ambrose and family, Florence (Caleb) Moncur and Edward Moncur, Phil Cooper, Eunice, James Major "Memo", Buggs Johnson, Micah Hepburn, Stanley Scavella, Sharene Ferguson, Brian Cartwright and family, Jackie Warner of New Jersey, Arthur "Telly" Nairn and family, Lydia Martin, Nathalee Kemp, Douglas Ferguson, Tony Parker Simon, Kendal Rigby, Darron Rolle, Rudy and Debbie of Fort Lauderdale, The Management and Staff of the Super Club Breezers, I.C.S. Security Concepts, The Public Hospitals Authority, Insurance Management ,The Orthopaedic Ward, of Princess .Margaret .Hospital., St. Matthew's Anglican Church, The Anglican Church of the Epiphany, The Centreville Community including The Delancy Young, Braynen, Hamilton, and Wilson families.
Relatives and friends may pay their last respects at Butlers' Funeral Homes & Crematorium, Ernest and York Streets, on Thursday January 16, 2020 from 3:00p.m. until 5:00p.m. and at the church on Friday from 9:00a.m. until service time at the church.