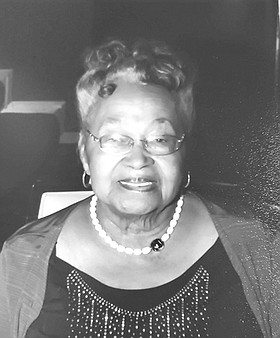 Delores Alecia Nottage
unknown - unknown
Funeral Service for Delores Alecia Nottage age 87 of # 27 Palm Avenue will be held on Saturday January 18, 2020 at 9:45am at Our Lady of the Holy Souls Roman Catholic Church, Deveaux and Young Streets. Officiating will be Monsignor John Johnson. Interment will follow in the Catholic Cemetery, Infant View Road.
Delores was preceded in death by her husband, Roland and her eldest son, Theodore.
Indelible memories are cemented in the hearts of Her children: Henry Smith, Teresita (Terry) Forbes, Christopher, Rudolph (Rudy) and Michelle Nottage, Gina Neymour; Sons-in-law: Robin Alphaeus Forbes, Brent Neymour; Daughters-in-law: Donna Nottage, Colleen Nottage; Adopted children: Charmaine Smith, Kelcine and Greg Evans, Keli and Tamika Smith, Henrietta Miller, Darnell and Anthony Bruce (FL), Debbie and Jeannie Bain, Brad and Cheryl Lightbourne, Susie Mackey, Elva Nixon; Grandchildren: Tamar (Kimberley) Poitier, Theodore (Felicia) Nottage, Taisha (Deniro) Lloyd, Gavin (LaToya) Nottage, Denise (Geoffrey) Thompson, Alyssa and Rashaan Forbes, Theorelle, Theominique, Ginae, Xavier Blair, Rudi Marie Bria, Tavares, and Tavia Nottage, Ahmad (Partriana) McPhee, Mikhial McPhee, Valderez Miller, Rhonda March, T'Shombie Johnson, Staneicia Outten, Kacee and Trent Evans, Chartom Ferguson, Keliecia Smith, Omah Hanna; Great-grandchildren: Cierra and Caleb Lloyd, MaTio Balfour, MaKyah and MaKyzin Nottage, Tamarion Poiter, Amaya Thompson, Krishae, Malik, Micah & Harmonee McPhee, Isreal and Tatum Nottage, Ginaer Robinson, Rhyse March, Redeja Dames; Brothers: Anthony (Maureen) Adderley, Gordon (Pearline) Adderley; Adopted Sister: Dorothy Lightbourne; Nephews: Ricardo (Cynthia) Adderley, Pierre (Moezza) Adderley, Anton (Suzette) Adderley, Anthony TJ (Victoria) Adderley (CA), Paul Adderley, Franklyn (Karen) Smith, Durie, Sidney and Bert Smith, Larry (Charlene) Smith (USA), Craig (Denise) Smith; Nieces: Marlo (Steve) Hanna, Marva (Trevor) Smith, Michelle (Henry) Guerrero, Grace Ann (Eduard) Gibby, Carol (Kurt) Ritchie, Linda Smith; Other relatives and friends including: Florinda Bastian & family, Altamese Isaacs & family, Dornell King & family, Ruth Turnquest, Andy Adderley, Vernal Sands, Mavis Seymour, George Adderley, Boyto and Valerie Nottage MD, Eva Thompson, Mildred, Sylvia & Donna Hamilton, Vera Carey & Family, The Mortimer Family, Odette McFarlane (caregiver), Eugene Washington & Claude Travis (VA), Terrance Thompson, Roland Goffe & Family, Monsignors John Johnson, Alfred Culmer & Simeon Roberts, Fathers David Cooper & Michael Kelly, Dr. Gertrude Holder & Family, Javonia Minns, Rudy & Vonnie Cooper, Paula Cunningham, Dwayne Fox & Family, Ingrid Thompson-Dean, Brando Stubbs, Sondra Cunningham (MI), Bathsheba, Prenell Davis & Family, Barry Burrows & Family, Louis & Prescola Mora (NY) Dr. Reginald Carey, David & Eric Carey, Nancy Carey-Williams, Aluchifer Rolle, Michael Jr. Fernander, Beverly Maycock & Family, Jali Thompson, The Poitier Family, Batelco Retirees, Our Lady's Women's Auxiliary & RCIA team, The entire Our Lady's Faith Community, The Palm Avenue & Lexington Avenue Communities, Long Island, Eleuthera & Andros Families, and a host of other relatives and friends too numerous to mention.
Viewing will be held in the Legacy Suite of Vaughn O Jones Memorial Center, Mt. Royal Ave and Talbot Street on Friday from 12:00 Noon to 5:00 pm and on Saturday at the Church from 8:45 am until service time.