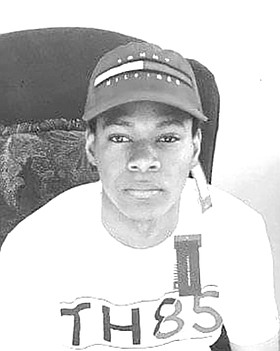 Travis Kenneth Lockhart
unknown - unknown
Last rites for Travis Kenneth Lockhart age 21 of Yellow Elder Gardens will be held on Saturday 29th February, 2020 at 10:00AM at Calvary Deliverance Church, East Street South. Officiating will be Bishop James Newry, assisted by other ministers of the gospel. Interment will follow in Woodlawn Gardens, Soldier Road.
He is survived by his Father: Trevor Kenneth Lockhart. Brothers: Travon and Gabriel Lockhart, Grandmothers: Ruth Cleo Wood; Maria Moss, Grandfather: Dudley Charles Smith, Aunts: Shalanda Beckles, Dr. Chranda and Kelly Smith, Jenile Brown, Uncles: Winston Beckles, Ferraris Neely, Walter/Doderick/Alexiou and Carlton Smith and Larenza Brown, Cousins: Taylor and Justin Beckles, Deon/Deontae/Candra/Christian and Ronan Smith, Takisha McPhee, Jayla Brown and Roy/Christine and Anthony Moss, Granduncles: Erick/Edward/Frederick(GrandBahama)/ Eric Wood (Grandbahama), Derek Kelly, Berkley Colebrook (USA), Randy Curtis, The Reverend Richard Wood, Grandaunts: Doreen Curtis, Meryl Deveaux, Sheila Blatch (Andros), Eleanor Wood (Atlanta Georgia), Peggy Kelly, Naomi Wood, Marvis Scott (GB), Other Relatives and friends: Tabitha Hanna, #50 Sergeant Randy Neymour, Nellie Walkes, Dandas Munnings, Miguel Rolle, Shantel Dorsett and family, Over The Hill Tire Repair, located Meadows Street, along with staff John, Kevin, Whitney, Adel, Philo, Aisha, Pochere, Eddie, The Bain's Town Community, Pastor Barbara Burrows-Collie and family, Mrs. Margaret Fernander-Colle and family, Kenneth Brown, Barbara McKenzie and family, Mel/Terran Jennings and family, Torrie, Veronica Williams and family, Llewellyn Astwood and family, Sharlene Rolle and family, The Community of Cadwell Street and Melvern Road, The Community of Yellow Elder Gardens, Rosemary Johnson and family, Michelle Zoncile, Sharon Smith, Geneen Evans, Eden Johnson, Meredith, Yasmin, Santisha, Zovia Martin, Pedric, Lecey, Rashad, Maniska/Murray Deaveaux, Michelle Swain and family(GB), Gloria Williams and family, Janice McKenzie, The Astwood and Wood Families, Gladys Ferguson and family, Malik Rolle, Ashton Rebeldo, Pedronique, Jameson Peterson, D'alphanique Gibson, Anishka Bonaby, Ministers and Friends of the family of Calvary Deliverance Church East Street South, Pastor Clifford Bullard and family, Karen Joseph and family (GB), Lorna Culmer and family.
The body will repose at Curtis Memorial Mortuary, Robinson Road & 5th Street on Friday from 11:00AM to 5:00PM and at the church on Saturday from 9:00AM until service time.