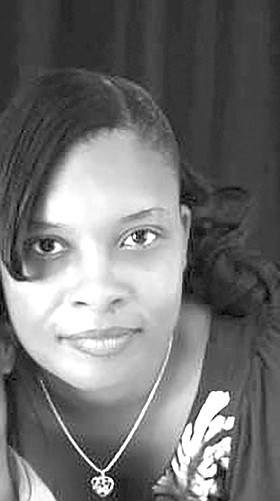 Tina "Teeny" Evette Walker-Nesbitt
unknown - unknown
Funeral service for the late Tina Evette Walker-Nesbitt affectionately called "Teeny" age 52 years of Crossing Rock and formerly of Sandy Point, Abaco will be held on Saturday, February 29th, 2020 at 1:00 p.m. at St Mark Baptist Church Crossing Rocks, Abaco, Bahamas. Officiating will be Pastor Anthony Campbell assisted by Pastor Mervin Burrows Rev Albert Russell. Interment will follow in Crossing Rocks Public Cemetery Crossing Rocks, Abaco, Bahamas.
She was predeceased by her sisters-in-law; Lisa Walker, Marilyn Davis, Jessica Nesbitt; brothers-in-law; Ricky And Val Nesbitt , Ervin Hart; cousin: Douglas Walker;
Left To Cherish Her Memories Husband: Carl Nesbitt; Daughters: Altneik Nesbitt- Russell, Shanell, Shantell, Carlissa Nesbitt; Sons: Merdop (Mj), Carl (Jr) Nesbitt; Grandchildren: Thaliyah And Theophilus Russell, Charvique and Temera McPhee, Carla And Hope Nesbitt, Jayden Lightfoot, D'ziah Dean, Amir Smith, Yalissa Grant; Sisters: Lorene Walker, Elizabeth Dean, Joanna Russell, Eula Williams Brothers: Jimmy, Johnny, Jackson, Erskin, Michael Walker; Sisters In Law: Rosslyn, Vernetta, Chermise Walker, Lorraine, Judith, Paulette, Nadean Nesbitt, Rev. Janean Hart, Meltise Louis- Nesbitt; Brothers In Law: Hesperl Russell, Lloyd Walker, Isreal Williams, Deon, Max, Adrian, Chris Nesbitt,; Aunt: Elease McKinney, Mimi Walker Uncle: Charles Carroll; Nieces: Gaylene Davis, Sharmine Walker, Princess Williams, Sheneak, Janice Dean, Dorrain Bain, Carrisa, Kimbley, Vanessa, Sophia Russell, Ketisha Russell, Temeka Walker, Jasmine Walker, Chadarzea, Cherish, Vanillan Walker, Eulisha Williams, Shanti Taylor, Jaquel, Lency, Valisha, Janea, Loran Deondra, Nekie, Grace, Alicia Nesbitt, Javon, Janell Hart, Quona, Olivia Nesbitt, Jevina And Breanna; Nephews: Tyrone, Trone, Alvin, Marshall, Thomas, Jamico, Reggie, Marvin, Johnny Jr, Jamal Walker, Ricky, Arthur, Frisco, Quintience Williams, Jude Taylor, Chris Jr, Deon Jr, Deshawn, Max Jr, Raquel, Christin, Val Jr, Taylor, Dre, Bernard Nesbitt, Ervin Hart; Son In Law: Tito Russell Mother In Law: Olivia Nesbitt; Cousins: Learleen Hepburn, Sandy Edwards, Beulah Walker, Juliette, Janice Carroll, Yolanda Basden, Rolander, Romeo, Lewis, Theodore Carroll, Kennith, Stanley, Mendes Mckinney, Charles, Floyd, Chester Walker, Grandnieces and Nephews: Crystal, Raquel, Tracey, Andrea, Gabriel Le, Micheala, Janahje, Quonnesha, Akia, Patyra, Towanda, Ellis, Kedisa, Jade, Jada, Michelle, Miranda, Marista, Carsey, Jasmine, Tomeisha, Kevana, Kietra, Kameah Simms, Tajahnique, Jimico Jr, Khalib, Devontae, Jaheem, Ronnardo, Patrick, Marvin Jr, Jude Jr, Jayden Taylor, Jamari, Jayden Walker, Payden, Kadie; Special Friends: Christopher Russell, Huden Farquharson, Tamika, Nikita, Cecil Grant, Charvis McPhee; Relatives and Friends: Anthony Campbell And Family, The Community Of Crossing Rocks, Dundas Town Church Of God, Staff At PMH, Female Medical 1 And Female Surgical 2, Dr. Morgan, Mervin Burrows And Family, Pam Cornish, Ian Roberts And Family, Melissa Roberts And Family, Debbie Williams And Family, Shell Gas Station, Willis And Gloria Weatherford, Alexander Davis, Nioshie Mckinney, Myeshia, Jennifer Johnson And Family, Mertis Russell And family, Javon Lightfoot, Damien Mark Fox Gibson, Nat, Desirre Rolle, Staff at Restview Funeral Home, Rev Albert and family, Sandy Point Community, Jeff Sanders, Sophia Penn, Bernard Nesbitt and family, Marcus and family, Elizabeth Lesbott, Judy Curry and many others too numerous to mention.
Viewing will be held at St Mark Baptist Church Crossing Rocks, Abaco, Bahamas on Friday from 11:00 a.m. to 6:00 p.m. and on Saturday from 11:30 a.m. until service time.