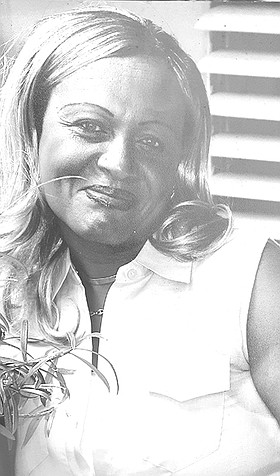 Shiela Delancy Stuart
unknown - unknown
Shiela Delancy Stuart, aged 57
of south beach drive & formally of crooked island. Service will be held at Bible Truth Ministries on Saturday February 29 ,2020 .At 10 am. Officiating Pastor, Ellison Greenslade and other ministers of the gospel. Interment will be held at lake view memorial gardens.
She leaves a legacy of love to her children Harrold Jr., Brian, Kemuel, Dominic, Dario, and Sheena Stuart, Sharmaine Roberts (Krishnia). Her grand-childrenZion, Zyia, and Zuri Roberts. Sisters: Angela, Norma, Javana, and Patrice Delancy, Karen Harvey, Diane, and Majorie Moss, Brothers: Reginald, Eugene, and Luther Moss, and retired Police Office Reginald Delancy. Sisters –in –law: Tawana Delancy, Rochelle, and Betty Moss, Brothers –in law: Lester, Willis, and Franklyn Stuart: Grand-Aunts: Pearl and Queen: Nieces: Andresshia McKinney, Dorenda Smith, Shekeisha Delancy, Tonya, and Shenell Roberts, Candace Moss, Marilyn, Kayla Tinker, Kishna Higgs, Vanessa Forbes, Tina Rasmussen, Rayshan, Lithera, and Reginique Moss, Kryshanda, Rechea, and Shanna Delancy, Taylor, and Tajahnea Delancy, Terez Rolle, India and Elenaor Delancy, Renisha Higgs; Nephew:Simon Brice, Tamiko Davis, Keno and Keavon Sands, Reginald Moss Jr., Louis, PC 4187 Anton Forbes, Moses and Delroy Forbes, Mario Marshall, Romell Andrews, Rashad, Jared, and Jakobe Delancy, Edrico, Orlando, and Lionel Delancy. Other Relatives and Friends including: Special Friend – Tyrone Thompson, Walter McKinney, Joy Murphy, Melanie Thompson, Cheryl Adderley and Family, Debbie Mills and Family, South Beach Community, Evelyn Ferguson, Henry Rolle and Family, The Crooked Island Association, The Porch and Family, Sr. Pastor Kendyce, Lady Sonja Moss- Moultrie and The Shiloh Abundant Life Ministries Family, Mercedes Mills, Candessa Moss.
Relatives and friends may pay their last respects at Sunset Mortuary located Montrose Avenue #50 On Friday from 10am to 5:30pm, and at the church on Saturday from 9am until service time.