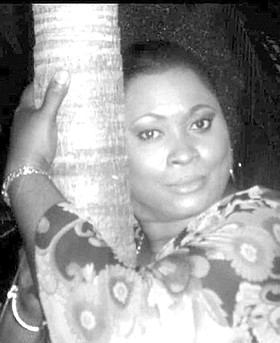 Prophetess Muriel "Mona" Maria Ferguson
unknown - unknown
Funeral Service for Prophetess Muriel Maria " Mona" Ferguson age 57 of Lancaster Road , Stapleton Gardens, who died on Thursday February 7,2020 will be held on Saturday February 29, 2020 at 11:00 a.m .at Voice of Deliverance Discipleship Center , Deliverance Way . Officiating will be Chief Apostle Leon Wallace, Bishop G.Elton Major assisted by Other Ministers. Interment will follow in Woodlawn Gardens, Soldier Road.
Left to Cherish her memories are loving
Children:
Tina Ferguson , Tino Strachan, Monique Stuart, Rudon Bastian 

Sons- in-law: 
Antoine Cooper, Joey Russell.
Daughters -in l-aw: 
Shatina Humes- Strachan, Gwen Bastian.
Grand children: 
Oluwa Stuart,  Tavion Smith, Antoinique Cooper, Anthony Cooper, Tiano Strachan,  Teriano Strachan,  Reagan Bastian
Mother: Nini Lorfils
Stepmother: Yvonne Ferguson 
Sisters:
Mary Grant, Yanique Jean, Mona Jean- Antione, Patricia Ferguson,  Minster Judy Ferguson-Missick, Lavern Ferguson, Marlene Ferguson, Enith Ferguson, Evel Ferguson, Margaret Ferguson Lefrance, Sabrina Ferguson,  Nikki Ferguson, Overseer Elcine Mackey, Cilotte Gardiner, Bonnie Gilbert, Dr. Yvonnie Ferguson and Theresa Ferguson;
Brothers: 
 Harold Ferguson Lorfils, R Supt .Cillford Ferguson George Ferguson,Georgie Ferguson,  Peter Ferguson,  McDonald Ferguson,  Ego Ferguson,  Stephen Benjamin
Nieces & Nephews: 
Michelle Tanicien, Fire Chief. Melissa Dennett, Ivy Ferguson, Dr. Chimone Ferguson- Charlton, Latoya Ferguson,  Sierra Ferguson, Amelia & Antonio Hall, Robert & Robertha Sweeting, Ego Ferguson Jr. Chivonto Ferguson, Chavo Ferguson, Marc Jean,  Sean Floris, Johnathan Jean, Denzel Lamar, Andretti, Bishop G. Elton,& Pastor Michelle Major, Jamico Ferguson, Navado ,Faith , Omar, Vincent Ferguson , Stephen Ducio, Garvado & Riviann Major ,Androetti Nixon
Aunt: Jeannte St.Juste
Cousins: Doreen Taylor, Omar Gibson,  Samantha Taylor, Ganel Bowleg, Johnesha Alexis, Craig & Dwayne Ferguson 
 A host of other relatives and friends including :
Travis Rolle & family, Porsha Ferguson,  Angela 'Big Angie' Brown, Pastor Lynden Young Sr., Bishop Gloria Reed, Deacon Simeon Mackey , Desmond Seymour& family , Samantha Bain & family
Brother Felix Jean ,Michaella Stuart & family, Marlene Minnus, Osbourne Stuart & Family, Prince Bastian & family, Harold Lloyd & family, Christine Murphy,  Paul Miller, Keshani Gomez & the entire Peter Street family ,Bjron Outten, Tom Ferguson & the entire Quakoo Street family. Tuwanto Saunders, Charles Smith & family. DeAngelo Duncombe & family, Juletha Gilbert and family FNN Yamacraw Family.
The Family sincerely apologizes for any for any names inadvertdly omitted or missed spelt ..
Viewing will be held in the Legacy Suite of Vaughn O. Jones Memorial Center, Mt. Royal Ave. and Talbot Street on Friday February 28,2020 from 11:00 a.m to 5:00 pm and on Saturday at the Church from 10:00 am until service time.