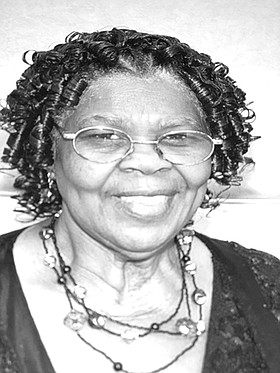 Phamie Greta Higgins
unknown - unknown
Funeral service for the late Phamie Greta Higgins age 79 Years of #35 Hawthorne Road, Oakesfield and formerly of Betsy Bay, Mayaguana will be held on Saturday, February 29th, 2020 at 10:00 a.m. at St. John Native Baptist Church, Meeting Street. Officiating will be Reverend Dr. Anthony J. Carroll assisted by Other Ministers. Interment will follow in Lakeview Memorial Gardens and Mausoleum John F. Kennedy Drive and Gladstone Road.
Left to Cherish Her Memories Are Her Husband of 57 Years: Reverend Leroy Higgins; Three (3) Children: Minister Dudson, Jacqueline and Emmitt Higgins; Six (6) Grandchildren: Tiphanie Higgins of Atlanta Georgia, Brandon Jackson and Brittney (Daniel) Mells of Huntsville Alabama, Emmitt Xavier, Emma and Emmile Higgins of Grand Bahama; Five (5) Great-Grandchildren: Julius and Jillian Mells and Teagan James, Kaleah and Lazaria Mells; Three (3) Brothers: Reverend Joseph (Pearl), Allan (Nora), and Felton (Maralita) Thompson; One (1) Aunt: Lucinda Missick and Family; Three (3) Sisters and Brother-in-law: Ceola (Leroy) Missick and Irene Thompson, Nesbitt (Birthamae) Higgins; 37 Nieces and Nephews: Elwood (Amanda), Nathan (Shequeta), Kevin, Kendall (Samantha) and Nakita Higgins, ASP. Elvin (ASP Telinda), Tony and Marvin Missick, Dellareece Rolle, Finetha, Christopher and Craig (Javonda) Taylor, Victoria Coakley, Altomese, Adeline, Elwood (Diedre), Trevor (Katrina), Linkwood (Anadelle) Kirkwood (Kaynell), Antoinette, Aldene, Alonzo, Andreski, Alicia, Aggatha, Latoya, Malissa, Brittany and Shineka Thompson, Ronald (Jennifer) Murphy, Mackel Mackey, Jennifer (Garth) King, Shareece Morley, Koralee (Ian) Braithwaite, Daphanie (Ronald) Newbold, Patrisha (Jason) Mchardy; 106 Grand Nieces and Nephews Including Kenya and Lakeisha Coakley and 25 Great-Grand Nieces and Nephews and A Host of Other Relatives and Friends Including: Lady Susan Roberts and Family, Mrs. Florence McPhee & Family, Miriam & Robert Merrit & Family, Dr. Kirkland Collie & Family, Elaine Taylor & Family, Kenva Christie & Family, Leon Ena Charlton & Family, Reverend Anthony Carroll And The Antioch Native Baptist Church Family, Reverend Hosea Lewis & Family, Bishop Lerodney Rolle & Refuge Tabernacle Family, Reverend Peter, Joyce Pinder & Zion Baptist Church Family, Union Hill PB Church Family, Bishop Carrington Pinder & St. John's Society, Diedre McPhee & Family, Shirline Murphy & Family, Linwood Clarke, Sam, Glen & Iris Rolle & Family, Pastor Ruth B. Morrison & Refuge Ministries Int'l Family, Margaret Lopez Smith & Family, Catherine Cooper & Family, Jacqueline Hart & Family, Pastor Ellison Greenslade And Bible Truth Ministry, Reverend Hervis Pratt & Family, Serethea Clarke & Family, Reverend Margaret Gordon, Temple Fellowship Ministry Family, Hawthorn Road Family, Iris Albury & Family, Reverend Oswald Gardiner, The C.C.A.C Family, Dr. Bowe, Mrs. Veronica Woodside, Elder Carlos & Vairy Spencer, Betty, Princess, Kevin & Reginald Taylor & Family, Dianne Lotmore & Family, Dathan & Darren, Theodore, Alton, Deon Bodie & Family, Carmen Moxey, Glenda Laing, Chief Supt. Craig Stubbs, Jeffrey, Maxine, Lincoln, Dudley, Pamela, Pernetta Murphy & Family, Pandora Miller & Family, Bricemae, Sally, Anya, Gregory Gibson & Family, Hiram Kelly & Family, Patsy Pedro, Shan, Megan Smith & Family, Patricia Laroda, Sherry Miller, Maceo and Laran Sands, Nora Smith, Evangelist McPhee, Lenamae Missick, Doreen, Other Relatives and Friends including: Maxine Woodside & Family, Lindsay Williamson & Family, Michael Newbold & Family, Hervisa Pratt & Family, Thanks a million to her Thompson Clan Caregivers.
Viewing will be held in the Irenic Suite at Restview Memorial Mortuary and Crematorium Ltd., Robinson and Soldier Roads on Friday from 10:00 a.m. to 6:00 p.m. and at the church on Saturday from 8:30 a.m. until service time.