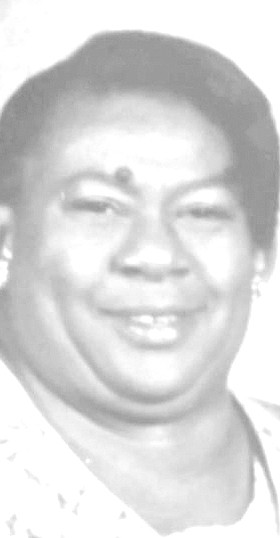 DEIDRE MARY VIRGINIA MARCHE DUNCOMBE-LYNES
unknown - unknown
Funeral Service for DEIDRE MARY VIRGINIA MARCHE DUNCOMBE-LYNES, 69
a resident of #39 Soldier Road, will be held at Sacred Heart Catholic Church, Shirley Street, on Saturday, February 29, 2020 at 11:00 a.m.  Officiating will be Fr. Anselm Russell. Interment follows in Old Trail Cemetery, Old Trail Road.
She is sadly missed by Husband: Spence Edward Lynes; Children: Deidre Lynes, Spence Lynes Jr. (predeceased), Cherran Lynes-Munroe; Grand Children: Travaughn Huyler, Tadesha, Tamaal and Tabitha Williams, Taron Coakley, Janae and Chervante Wilson, Chinell, Tinnaj and Tinwell Munroe Jr., Meggin Stuart; Great-grandchild: Travaughn Huyler Jr.; Step Children: Patrice Lynes-Pratt (predeceased) Lisa Brown McSweeney, John Lynes, Nicola Lynes-Bastian and family, Sheldon, Tracey, Theo, Takoya, Melissa Pratt, Jonathan Pratt, Nicolas Pratt, Jermaine, Kaylisa and Kathy McSweeney and others too numerous to mention; Sons-in-law: Tinwell Munroe, Thaddeus Williams (former); Sisters: Margaret, Sharon, Pearline (Lanora) Duncombe, Donell (predeceased) and Sharel Marche, Luellen Strachan; Brothers: Richard, Michael and Paul (predeceased) Duncombe, Wayde Fox, Craig Morley (Canada), Dwight Moxey (predeceased) Dewey Sargent (predeceased); Brother-in-law: Simeon Bowe (predeceased); Sisters-in-law: Jane Lucille Archer, Novelette and Barbara (predeceased) Duncombe, Jill Saunders; Aunts: Lorriane Bethell, Linda Marche, Orville Marche-Knowles (predeceased), Catherine Marche-Wright (North Carolina), Junnette Marche-Radjpaul (New York) Christine Rolle, Ethelmae Gibson, Henrietha Butler; Uncle: William Roberts, (Kirkland, Marcellous, Jack, Dencil, Cecil and Tyrone Marche predeceased)); Nieces: Balinda, Betina, Sakura, Ashley, Monolisa, Richland, Michelle, Catura, Doreen Duncombe, Cicely Stuart, Neleha Forbes, Robyn and Liz Zamora, Krystal Cox-Ferguson, Noelle northe, Simone and Christina Duncombe, Dominique, Darnell, Dena, Lakay, Micahelet, Patrice, Tamara, Vernita, Lisa, Kachena Archer, Abigail Archer-Jarvis, Carolyn Adderley-MaCaulay, Sherry Adderley, Merrileah Storr, Castassja Cleare, Simone And Sonia Bowe; Nephews: Tharrell, Paul Jr., Deangelo, Dino, Hearn (Junior) Duncombe, Trevor, Kenron Forbes, Deanton Ferguson, Don and Dave Adderley, Elvis Pierre, Dencil , Trevor, Charlie (predeceased) Terrance. Numerous of cousins, grand nieces and nephews to mention but all were loved. Special friends: Staff of Solomon Super Center, Medi Center, D'Albenas Agency, Environmental Health and Chesapeake Comprehensive Care, David Duncombe and Family, El Bethel Global Ministries, Emerald and Janet Cooper and family, Mackey Street and Brice Lane Family, Kemp Road and St James Road, Finlayson Street Family, Mr. V. Charlow, Meadows Family, Joy Nixon and Family, Jermaine Coakley, Jarvis Family, Tracey Brown and family, Miriam Gaitor and Joann Basden and Family, Therese and Denice Chisholm, Apostle Karen Butler and Family, Jillian Saunders and Family, Olivia Carey and Family, Tracey Miller and Family, Devon Huyler, Daneika Bain and Family, Dorothy Lee. Please forgive us if your name was not listed.
Friends may pay their last respects at Demeritte's Funeral Home, Market Street, from 12-6:00 p.m. on Friday & on Saturday at the church from 10:00 a.m. until service time.