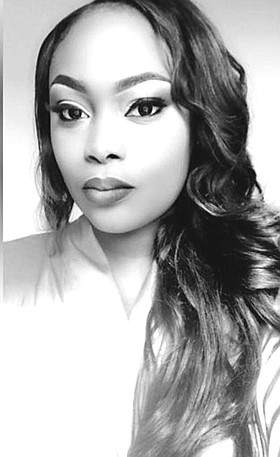 Bajina K Marshall
unknown - unknown
Bajina K Marshall, 27 
of  Staniard  Creek, Andros who died on Thursday, January 23rd, 2020 will be held on Saturday, February 22, 2020, 10am at Church of God of Prophecy, Staniard Creek, Andros. Officiating will be Bishop Caleb Evans assisted by other ministers of the Gospel. Interment will  follow  in Zion Baptist, Staniard Creek Cemetery, Andros.
Left to cherish Bajina's life are: PARENTS: Pastor Brindly & Jenevieve Marshall; SISTERS: Brindera, Kachelle, Jenae, Latonya & Louise'Anna; BROTHERS: Kendedo, Kenrico, Brindino & Shannador Andrews; NIECES: Kenria, Keniesha, Brineah, Alayah, Naveah & Anthoniqua; NEPHEWS: Brinardo, Anwar Jr. Ayden, Trevion, Tavario; SISTERS-IN-LAW: Ashley & Ercella; BROTHER IN LAW: Justin Butler; FIANCÉ': Alexander Pennerman (Pastor Moses & Minister Inez Pennerman); DEPENDANT: Rosemary Marshall (Cat); AUNTS: Mary Storr (James), Salomie Wheeler, Elizabeth Belle, Melonie Tardiff, Marie Coakley, Dora Walker (Charles), Monique Fleming (Mike), Cherrise, Arnette, Deborah Burrows (Elliot), Lydia Johnson (Eldon), Portia Riley (Ricardo), Elizabeth Bain (Alfred), Amy Mott (Douglas), Eva Bain (Hubert), Crystal Mckenzie (Wilton), Evelyn, Laletha Colebrooke, Schonell Cleare, Jenneth Marshall, Rebecca Dean, Sharrica Sargent (Carvelle) ,Allese , Rhoda Miller, Qutelle & Valley; UNCLES: Simeon Anderson (Beltina), Jerome Coakley (Sernovia), Jeffrey, Paul Marshall, Israel, Moses (Kayshell), John (Joenese); GRAND AUNTS: Mizpah Braynen, Patsy Neymoure, Anna Neymour, Magnolia Neymore; GRAND UNCLE: Rev. Raymond Mackey (Erma); COUSINS: Brian, Dwight, Jason, Monette, Rochique, Markelle, Elizabeth Rockey, Nimoy, Ronnelle, Ronnie, Robertha, Magheo, Nathiel, Marquis, Marcell, Latoya, Lakeisha, Lashae, Simeon Jr. , Carl, Candi, Julian, Tyrelle, Servano, Vantasha, Henroy, Lateisha ,Johnny Jr, Barry, Angelica, Kristen,Creflo, Prescott, Naldo, Arthur , Arthurnique, Christopher, Michael, Pauline, Paulette, Paul Jr. Patrick, Percy, Peter, D. J. Denzinique, Shavantae, Raydon, Timothy, Salathiel, Jermaine, Ashton, Randol, Cara, Lacoya, Alicia, Kaylisa, Valene, Dorinda, Glenroy, Fredina, Cherish, Vanilla, Precious, Chester, Bethress, Peaches, Eric, Branae, Byjaun, Adonya, Dwaynieka, Jackson, Chacara, Cavan Carvelle Jr. Johnelle, Monae, Moses Jr., Kalen, Mo'Kelle, Rosa, Alfred Jr. Raziya, K. J. Kathlyn, Rashan, Kirkreta, Brandon, Cordero, Kadeja, Dravan, Navard, Cesily, Sycreenna, Daurell, Lakiesha, Lydera, Christopher Jr. Tywon, Tyquwona, Jacoya, Jerome, Donald, Kaidell, Suresha , Giovani Jaden, Jaylyn, Maddison, Nevaeh Reanna, Tracey, Kacey, Salathiel Jr. Calvin, Alvin, Kasmiah, Timothy & Karen Johnson ,Sonia, Martha, Crystal, Chester, Bethsheva, Eric, Erica, Sammy, Benjamin Sh'Nyla, Valentino, Sabria, Jahmiem, Serayah, Shnayler, Javone, Syler, Dennisha, Wayne, Waynell, Pharell, Latrell, Catelya, Eldora, Janeya, Euro, Jarell, Kamiya, Drakeolano, Oneka, Chico, Nasal, Navario, Nekos, Alequa, Aretha, Olive, Eldingo, Fred, Shakara Bethel, Georgiann, Samantha, Karanell Coakley, Fred, Shakara, Ben Frazier, Gordon, Vernetta Coakley, Harrington Frazier, Shandida, Matthew, Nathaniel and Steven; GOD PARENTS: Hycinth Hanna, Rocita Duncombe,, Mackey Knowles; GOD SISTERS & BROTHERS: Lakeisha Goodman , Dania & Stephen Hanna, Lazette, Lashanta, Stephan Hanna, Lekiesha Duncombe, Myles & Miesha, Marlene Johnson; OTHER RELATIVES: The Hon Desmond Bannister & family, Ms. Bowleg Superintendent, Principal Norris Pinder and staff at Central Andros High School, Belinda Wilson, Mr. & Mrs. Harrison Thompson & Family, Mr. Harcourt Davis, The Fraziers, Riley, Goodman, Porter, Dean, Johnson, Whyms, Pratt, Roberts, Kemp, Coakley, & Sands Families. The entire Delta Sigma, Theta Sority family. Glen Lightbourne & Family, Glen Duncombe & family, The Mackey, Saunders, Newton, Neymour, Braynen, Munnings and Newton families. The Pennerman, Lundy families.The communities of Mangrove Cay, Central Andros inclusive of Behring Point, Fresh Creek, Calabash Bay, Staniard Creek and Church of God of Prophecy family. The Principal & Staff at Mangrove Cay, Bishop Caleb Evans & family, The staff at Each On Reach One staff at Moss Computer Repairs, Ida Nesbitt & family, Angeline Petit & family, Arlington & Daisymae Butler & family Craig Scott & Family; SPECIAL FRIENDS Aliczia Bain, Giavannia Ferguson, Amanda Musgrove, Nicole Mitchell, Yamease Swain, Kharisma Munroe, Charlene Barton, Paul Ross, Candace Smith, Kenya Ferguson, Phillipa Neely, Keitra, Shanae Smith, Laketra Robinson, Antoine Duncombe, Nishka Newbold, Amani Hair, Gorgette, Josiah Dean, Eltrinique. & Ms. Cartwright; SPECIAL THANKS TO: Ms. Bowleg – Superintendent, Nurse Edgecombe & staff at
Fresh Creek and Nicholas Town Andros Clinic, Ms. Bowleg – Superintendent; and a host of other relatives and Friends too numerous to mention.
Friends may pay their last respects at the Newbold Brothers Funeral Chapel, Palmetto Avenue and Acklin Street TODAY from 10 a.m. until 4 p.m.and at the church on Friday in Staniard Creek, Andros until service time on  Saturday.
Funeral arrangements are being handled by Dignity Memorial Mortuary.