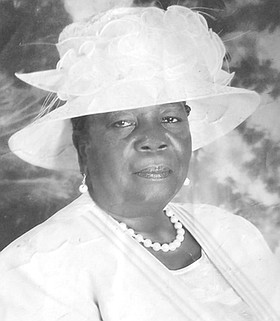 Priscilla Rose Miller
unknown - unknown
Funeral Service for
Mrs Priscilla Rose Miller 
a life long resident of Lowe Sound, North Andros, The Bahamas will be held at The Cathedral of Olive, Morgan's Bluff Drive, North Andros, on Saturday, 15th February, 2020, 11:00 am. Officiating will be Bishop Phillip Campbell, assisted by Pastor Mannix Cargill and other Ministers of the Gospel. Interment will follow in the church's cemetery
She will be sadly missed by: Husband: Edwin Miller, Daughters: Olivia Bowe and Shantae Miller Anderson, Adopted Daughters: Terra Evans, Shirley Grant, Colamae Evans. Adopted Sons: Rick and Clint Miller. Grandchildren: Eric Russell, Rashan, karnisha ,Omar jr., Olano, Eddicka, Tiana, Dwinique, Clisha, Clintia, Rick jr,. Rickiesha, Ratia. Great GrandChildren: Ashanti, Shantia, Omar and Raseen. Sisters: Roszelda Knowles. Sisters-in-Law: Marilyn Pratt, Patricia , Kendra and Louise Miller Brothers-in-Law: Aldrick and Allen Russell Henson, Samuel, Donald and Alexander Miller, George Pratt. Nieces: Alma Munroe, Vanrea Gaitor, Paulamae and Catherine Colebrooke, Shabrica Miller, Mary and Martha Burrows, Pearl, Marcetta, Claranell Russell and Naydean Lewis, Wyomie and Magnetta Knowles, Jancine Bowleg and Kimberley Bryan,Woman Marine Lakera Moss(RBDF), Colamae Evans, Suenea, Maria, Lauralee, Lathera, Eulamae, Nastacia, Barbara and Jolyn Knowles, Samantha and Emma McQueen, Donna Sweeting, Dollymae and Brittany Russell, Sandy Johnson, Tanya Barr, (WCO) Georgette Pratt (Correctional Officer). Nephews: Douglas and Jeremaine Knowles, Leading Seaman Mark Knowles (RBDF), Leading Mechanic Leslie Knowles (RBDF), Jerome, Leo, Clifton, Leon, Isaac and Andrew Colebrooke, Otis and Benny Bowe, Brekit, Perry, Daniel, Melvin, Nigel, Eugene Jameico Knowles, Sadeneo Miller,Gregory Johnson, Dencil Jr., Insp. Kemuel Knowles (RBPF), Philip, Emmerson Jr and PC3213 Elmas McQueen (RBPF), Humadason Evans, Rodger, Julio, Teano, Wilton and Jackallen Russell, George Jr. Pratt, Randol Lewis, Neko and Travis Barr.God Children: Preston Moss, Junior Knowles, Inderia Jhonson, Omar Miller. Special Friends: Katie Butler and family, Vincent Strachan, Algerine Russell and family, Lakera Cartwright and family, Rhonda Evans and family, Larry Newton, Dr. Nigel Lewis, Gladys Pinder Ms.Virginia, Kizzy Mcphee. Host of other Relatives and Friends Including: The Honorable Carlton Bowleg Jr. Member of Parliament for North Andros and the Berry Islands, The Honorable Earl Deveaux, The Honorable Vincent Peet, Oral Evans, Fredrick Rolle and Family, Roy Barr and Family, Bully Rolle and Family, Mitchell Johnson and Family, Simon, Alphonso, Elrinis and Patricia Miller and Ben Rolle Aunt Ceva and Family, The Colebrooke Family,Stanford Johnson and The Grant Family, The entire communities of Lowe Sound and Red Bays.
Friends will pay their last respect at St. Ambrose Funeral Home #34 Arundel Street, New Providence: Thursday 13th February, 2020, 11:00 a.m. – 7:00 p.m. 
Andros: On Friday 14th February 2020, 1:00 p.m. until service time at the Church. 
Up to the minute updates can be found on our Facebook page : St. Ambrose Funeral Home.
Please accept our apologies if your name did not appear as it was not intentional, know that your prayers and support were greatly appreciated during our time of bereavement