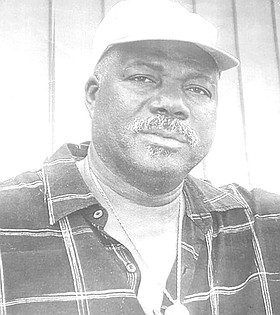 Levi "Lord Bush" Reginald Laing
unknown - unknown
Funeral Service for Levi Reginald "Lord Bush" Laing age 71 a resident of Odle Corner, will be held at Commonwealth Mission Baptist Church, Elizabeth Estates on Saturday 15th February 2020 at 11:00am. Officiating will be Bishop Arnold E. Josey, DD, JP, Assisted by Other Ministers of the Gospel. Interment will follow in Woodlawn Gardens Cemetery, Soldier Road.
Left to cherish his precious memories are his:
Children: Reginald Levi (Zenovia) Lynes, Gelita Patrice (James) MacNeil, Cherice Demetria (Terrol) Leary, LeVann Brendan Forbes and Sharmaine Laing; Adopted Children: Darren Smith and Terran Bain; Grandchildren: Kyera and Kelvin Davis, Rajhe, Rajhenique, Rajhene Lynes, Chernise Maycock and Shevanno Forbes; Great Grandchildren: Jasmin Roberts and Kelvin Davis, Jr.; Siblings: Evangelist Agnes (Rollins) Carey, Carl Rolle, Daphne "Qutie" Miller, Ephraim and Raymond Lynes, Rev. Carolee Wright, Apostle Livingstone (Nickesha) Lynes and Min. Margaret Lynes-Knowles; Aunt & Uncle: Anna Russell of Crown Heaven, Abaco and William Cooper of High Rock, Grand Bahama; Nephews & Nieces: Elvis (Gina), Jerome(Deon), Michael(Lillian), Keith(Tracy), David(Sophia), Wayde and Wayne (Genice) Carey, Sherry (Stephenson) Gibson, Sheila (Basil) Pierce and Sharon Carey, Carla (Gregory) Armbrister, lyanthe (Lesley) Bain, Dale, Sean (Jonetta), Wallace, Darrin (Jasmin) and Elvin Rolle, Brennamae (Fernley) Cooper, Brenda Rolle, Troit Sr. (Shakeira), Livingstone Jr., Eshban (Kelly) and Joshua Lynes, Kenneth (Lisa), Antione and Walter Wright, Kendrick (Gernique) Dames, Javon (Tiffany) Johnson, Wayne Miller Daphne, Tamla, Shalinka, Robyn-Dawn, Elder Rashad and Charity Lynes, Simone and Remone (Angel) Duncombe, KerryAnn (Adeyemi) Kayode of Virginia, Anita (Jermaine) Dorsey, Pastor Faith (Nathaniel) Percentie, Min. Hope(Joshua) Hall, Min. Charlene (Rev. Patrick) Paul, Marguerite Dean-Pierre, Grand Nephews & Nieces: Donovan, Eljanae, Evita, Deandra, Jerome Jr., Hezron Stephanie, Stephen, Stephano, Sterling, Jessica, Shaquila, Tiskia, Perez, Kennisha, Joshua, Zipporah, Hadassah, Emerald, Faith, Charlton, Christen, Kevin, Manessa, Kenrick, Jade (Duran) Francis, Tameka, Tre' (Donise) Adderley, Troit Jr., Dilinco, Shaloam, Shaliyah, Kaaliyah, Ariane, Troy, Dashia, Alexandria, Lakia, Kalyn, Kyle, Odeisha, Obadiah Jr., Jaheem, Grace, Khalil, Sapriya, Darrin Jr., Darrinae, Trevor, Valencia, Trevinia, Corissa, Kishmere, Leslie Jr., Levanti, Trinity, Autumn, Rhavanya, Michael, Kenya, Keniya, Janiya and Joshua Jr; Cousins: Evangelist Mavis Poitier, Leanna, Marilee, Mae, Gretel, Livingstone, Victoria, Beulah, Lois, Vera, Iva, Ena, Myrtle, Mary, Daisy, Jane, Clara, Ruthmae, Bernice, Monica, Linda, Jackie, Verlene, Iceletta, Ishmael, Harris, Hiram, Joseph, Nathaniel, Timmy, Emalchus, Livingston, Johnny, Elouise, Melvenia, Iva, Loretta, Laura, Geraldine Brown, Levenia, Vertle, Perill, Deloris, Hattiemae, Floramae, Corene, Shirlene, Alsaida, Victoria, Joyce, Annie, Hilton, Nehemiah, Percy (Ethlyn), Vernal, Wilmon, Eric, Gladstone, Horatio, Joey, Johnny, Darling, LeAnn, Louisa, Ellamae, Henry, Walter, Joseph, Edison and Alfred; Other Relatives and Friends including: Bishop Arnold and Elder Vernita Josey & the Commonwealth Mission Baptist Church Family, Valencia Lynes, Carolyn Forbes, Management & Staff of Alexiou, Knowles & Co., Francise Toussaint, Maria Lynes, Errington Lightbourne, Patricia Babbs, Tracy Evans, Patrick Joseph, Peggy Ferguson, Terez Newton, Franston Antenor, Syesha Rolle, Jronica Torilus, The Ocean Club A Four Seasons Resort, Management & Staff of MES Ltd., Management & Staff of Civil Aviation, Officers and Members of the Voice of the Watchman Ministries, Officers and Members of The Grants Town Seventh Day Adventist Church, The Hield, Laing, Murphy, Smith, Coakley, Ferguson, Edgecombe, Rahming, Williams, Nesbitt, Mackey, Major, Rolle, Cooper, Young, Mather, Innis, Maycock and Johnson Families, The Music Makers Junkanoo Organization, Odle Corner, Strachan's Corner, Fritz Lane, Thompson Lane, Fowler Street Families and a host of other relatives and friends too numerous to mention.
Friends may pay their respects at Riverside Funeral Home, Market Street & Bimini Avenue from 12:00pm — 6:00 pm on Friday and on Saturday at the Church from 9:00am until service time.