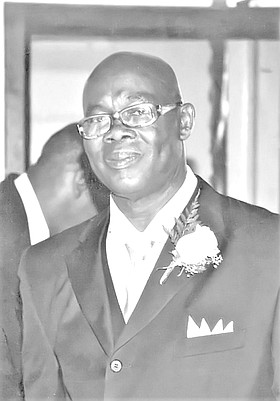 Retired Corrections Officer Corporal Earthlin Nathaniel Miller
unknown - unknown
Celebration of A Gem Service
For
Retired Corrections Officer Corporal Earthlin Nathaniel Miller Age 74 Years of #17 Cottonwood Street, Pinewood Gardens and formerly of St. Michael, Barbados will be held on Friday, October 18, 2019 at 10am at Holy Family Roman Catholic Church, Robinson Road. Fr. Junior Calixte will officiate, burial will be in Woodlawn Gardens Cemetery, Soldier Road.
Earthlin is preceded in death by his:
Wife: Olive Albertha Thompson-Miller;
Father: Frank Miller;
Mother: Geraldine Forde-Miller;
The Radiance of this "Pearl of A Gem" will always glow in the hearts of his:
Three Sons: Earthlen Sr. (Marlene) and Anthon Miller Sr. (Trameka) and Damian Adderley (Lakesha);
Three Daughters: Claudna Miller-Knowles (Andrew), Vanessa Black (Dennis Sr.) and Amanda St. Charles (Anthony);
Ten Grandsons: Nathario Sr., Earthlen Jr., Camari, Anthon Jr., Isaiah and Nathaniel Miller, Trent Rolle Jr., Amir St. Charles, Dennis Black Jr. and Jovan Adderley;
Eight Granddaughters: Marcia, Hannah and Aaliyah Miller, Autumn St. Charles, Savanah Black, Aniska Johnson, Alaya Glinton and Damitra Adderley;
Two Great Grandson: Nathario Miller Jr. and Damari Thompson;
One Great Granddaughter: Royal Rolle;
Four Brothers: Ervin and Junior Miller, Harald and George Agard;
Five Sisters: Idalia, Esther and Elicia Miller, Emmaline Vandyke and Julie Miller-Ramsey;
Numerous: Nephews and Niieces;
One Uncle: Evans Forde;
Brothers-in-law: Leslie, Neville, Danny, James, Sherman and David Thompson;
Sisters-in-law: Sylvia Mackey, Marilyn Adderley, Mattie Emmanuel, Theresa Thompson and Emmaline Debre;
Other Loving Family and Friends Including: especially his caregiver Robert Williams, Ceotti Cooper, Navardo Neely, Mrs. Moxey, Sophie Moss and their families. Teddy Grazette, Buckcrin, Mr. Hall, Sealey and the rest of the Barbadian connection. The guys under the tree by Jeff's Auto, Cottonwood Street East Pinewood Gardens and St. Thomas More Church families.
Visitation will be at "Emerald Memorial Mortuary" located in the (Rock of Ages Building) Wulff and Pinedale Roads, "Today" Thursday, October 17, 2019 from 1pm to 5pm and at Holy Family Roman Catholic Church, Robinson Road on Friday, October 18, 2019 from 9am to service time.