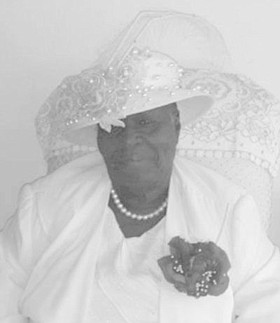 Matriarch Inez Lucine Ferguson
unknown - unknown
Funeral Service for the late Matriarch Inez Lucine Ferguson age 89 years of Tapon Drive, Joan's Height and formerly of Pestil, Acklins will be held on Saturday 12th January, 2019 at 10:00 a.m. at St. Johns Native Baptist Church, Meeting Street. Officiating will be Bishop Michael Symonette assisted by other ministers of the Gospel. Interment will follow in Lakeview Memorial Gardens, John F. Kennedy Drive.
Left to cherish her memories are her three sons: Rev Reno Smith (Brownen), Terrance Ferguson (Jenny) and Julian Ferguson; One Daughter: JoyAnne Archer (LeRoy); Daughters in law: Blondell Ferguson (Ivan) and Emma Ferguson (Ken); Adopted Daughter: Min. Betty Thompson; Regarded Daughter and devoted caregiver: Julian King Ferguson; GRAND CHILDREN: Rochelle Ferguson, Racquel McCreary (Greg), Racquena Ferguson Thompson, Ravanno Ferguson (Cannovia); Andrew Burrows, Dewitt Brown (Marcia), Thomasina Brown and Geno Ford; Kendia Simmons (Jeovone), Ramell and Kenyanna Ferguson, Kensherri Jenkins, Tavon, Jaylon, Jayla and Amando Ferguson and Kendrae Curry; Revanno and Bronnique Smith; Barrington, Jordan and LeeAnne Archer; Jemmia and Julian Ferguson Jr.; Shenequa and Deandrea Hepburn, Keturah Lockhart (Tyrell), Jedidia and Kebra Ferguson; Demetria Major, Deneka Smith (Lawrence) and Toya Hope; GREAT GRANDS: Shannovia Burrows, Jabari, Geno Jr and Dymond Ford; Menelik Darling, Jadial Gibson, Fallon, Navi and Cali Ferguson; Micah and Myckell Brown; Keajean Ferguson, Mikell, Mikeaja and Mikyla Jenkins; Elviania Ferguson, Ricnek and Aryah Lockhart; Joevone Simmons Jr, Leah Smith and Lauryn Smith; BROTHER: (1) Edroy Ferguson - Miami, FL; SISTERS: (2): Marilyn G. Ferguson, Rev. Ruby Thompson SISTERS-IN-LAW: (3): Thelma Bain Ferguson - Hialeah, FL Ruby Tynes Ferguson – Miami, Fl Elizabeth Ferguson; NIECES: Edwina Gibson (Henon), Geralene Ferguson (Leonard), Uricka Gibson, Gloria Antoine (Leroy), Velma Adams, Brenda Williams (Chapman), Esmae Cox; Avis Francis, Maddie Lerdard, Yvonne Watson, Patricia Grant – Okachobee, FL., Christina Johnson; Joanne Smith (Leonard) – Pompeno Beach, FL., Jackie Wilkerson – Atlanta, GA., MaryAlice Mackey (Gary) – Pompeno Beach, FL.; Malarie Darling, Marilyn Rolle, Patrice Darling, Sharon Metler, Wanda Walker (Nathenial) – Miami, FL.; Deborah Hester (Lapolean), Theresa Ferguson, Leuretha Brown, Michelle Dellerese Ferguson, Chavalar Evans (Tavari) and Danielle Denise Thompson; NEPHEWS: King Erisson – Las Vegas, NV., Rodney Johnson, Jerone Clarke, Christopher Cox – Miami, FL., Jeffery Gibbons – Pompeno Beach, FL., Herby Ferguson, Dewitt Ferguson; Dwayne, Dwight, Byron and Billy Ferguson; Gregory Clarke (Audreyann), Kevin Clarke (Desiree), Bursil and Kent Clarke; Pedro Darling (Charlene), Llowell, Mercury, Cedric and Trevor Darling; Rico Ferguson (Stephanie), and Carno Ferguson (Bernadette) – Ft. Lauderdale, FL; Ernest Darling, Llewlyn, Orthniel and Dereck Wilson (Shantell); Ellington Ferguson (Sherice), Zendal Thompson (Judyann), Granville Thompson (Patrice), Calvin, Charles, Chiavago, Shawn and Shanne Thompson; Theodore Ferguson; GOD BROTHER: Wendel Jones; CLOSE RELATIVES AND FRIENDS INCLUDE: Naomi Davis Shand – The Bronx, NY; Linda Boyce (Jessie) – Bowie, MD; Eugene Ferguson (Alice) - Augusta, GA; Nelliemae and Leonette Ferguson, Veronica Rigby, Mizpah Darling, family of the late Carrie Walker, family of the late Celeta Moss, family of the late Sir Clifford Darling, Family of the late Rev. K.S. Darling, the Ferguson and Darling families of Acklins, Virginia Sturrup, Lorraine Pickstock, Jackie Hepburn, Anne Rolle, Rev. Tyrone and Vernita Sands, Rev. Gilbert and Masie Smith, Andrea Missick and Family, Keisha Kemp and family, Angela Frew, Deloris and Oswald Francis and Family, Dr. Roland Hamilton, Leroy Archer Snr. and family, Aaron and Marion Seymour and family, family of the late Audley & Margaret Hudson of the Bluff, Eleuthera; family of the late Benjamin and Willimae Dawkins of Murphy Town Abaco; family of the late Veronica Lotmore, family of the late Isabella Simms, family of the late Irvin and Unis Pyfrom; other neighbours and form Wulff Road/Moore Avenue; neighbours from Joan's Heights East especially the Malcolms and the Colebys; Rev. William Thompson and the members of Faith United Baptist Church; Rev. Lloyd Smith and the members of Mt. Horeb Baptist Church and the members of the Progressive Liberal Party.

Friends may pay their last respects at Bethel Brothers Morticians #44 Nassau Street on Friday from 1:00 p.m. to 6:00 p.m. and at the church on Saturday from 9:00 a.m. until service time.