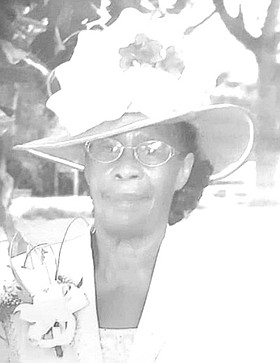 Viola Pinder Wilson
unknown - unknown
Funeral service for the late Viola Pinder Wilson age 87 years of #34 Sisal Road and formerly of Port Howe, Cat Island will be held on Saturday, December 28th, 2019 at 11:00 A.M transfiguration Baptist Church, Market and Vesey Streets. Officiating will be be Rev'd Dr. Stephen E. Thompson, assisted by Rev'd Brazil McDonald Rev'd Sherma Bowe, Rev'd Colyn Thompson Rev'd Alphonso Newry, Rev'd Terrance Morrison. Interment will follow in Lakeview Memorial Gardens, John F. Kennedy Drive and Gladstone Road.
Viola Pinder Wilson was pre-deceased by her Husband: Evangelist Ernest J. Wilson: Mother: Estella Moncur; Father: James Pinder; Daughter; Merthlyn J. Fowler, Son: Quincey Greene; Brothers: Orman Moncur and Lucia Moncur.
Left to cherish found memories are: Daughters: Cynthia Bridgette Dean-Byer and Rosie Greene; Adopted daughter: Adean Connell; Sons: Anthony Smith (Christine), Pastor Princey Pinder (Bishop Juliann), Sgt. 1917 Wayde Rolle RBPF (Cathrine); Grandsons: Insp. Eric Fowler RBPF(Rochelle), Julian Fowler (April), Anthon Smith and Richard Byer; Granddaughters: Lakeisha (Adrian) Forbes, Geleta Marcia Greene, Eboney Fowler of Maryland, Dr. Sherrynda Dean, Alicia (Godwin) Appiah, Registered Nurse D'Andra Storr; Sisters: Mildred Pinder-Hanna, Dec. Pauline Ferguson; Brothers: Richard Moncur of Deerfield Beach, Fla., Bishop Rudolph V. Pinder(Rev. Sandra), Carl Pinder of (Port Howe, Cat Island; Nieces: Florence Sturrup, Julia Storr, Yolanda Johnson, Monette Hanna, Kenya and Gina Fegurson, Monica Nottage (Bishop Thomas), and Asenath Johnson (Bishop Kevin); Nephews: Lt. Commander Micheal Hanna Sr.(Sharese), Brent Fegurson, Rudolph Pinder Jr., Dan Pinder(Elva), Lachel Pinder(Bernadete), Charlton Pinder (Antneal); Great-Grands: Adrianique, Asia, Ashantay and Aemia Forbes, Anthon Jr. And Lamont Smith, Breann Wood, Shiloah Miller, Brianne, Eric David, Jakeiya, Jumari and Edwin Woody Fowler, Gabriell Rolle, Jovantaysha Bell, Darinique and Keishonna Sands; Grand-Nieces: Laverne Givens, Latonya Evans, Micquel and Micah Hanna; Grand –Nephews: First Lt. William Sturrup, Chryslin Sturrup, Micheal Hanna Jr., and Mickyle Hanna; Other Family and Friends: Min Ellenor, Ignes, William, and Al Allen, Esther Rahming, Mary Moxey, Ratiliean Jean, Jeff, Berlin, Juliette and Mariette Storr, Alpheus Kemp, Paige Ferguson & Family, Carolyn Mackey, Edith Taylor, Vanrea Woodside, Marcella Marllory, Marina Knowles, Rose Lunn, Yvonne Rahming, Elsiamae Cleare, Merlene Adderley Mott, Janet Daley, Pricilla Stubbs, Zel Lockhart, Ms. Culmer and The Golden Gates Community. Rev. Steve Thompson and Transfiguration Baptist Church, Staff of L. W. Young, Windgate Drive Community, Rev. Leon Graham, Anthony Johnson, Alice Hunter, Alfred Chery, Dr. Hamilton, Dr. Eugene Gray, Dr. Kevin Moss, Dr. Brian Tynes, Nurse Morris and Male Nurse Rahming (South Beach Community Clinic), Nurse Celeste King, Dr. Conville Brown and Staff of Bahamas Heart Centre, Sis Claire Rahming, Sister Monique Forbes and Doctors and Nurses of Female Medical 2 of Princess Margaret Hospital
The family of the late Viola Pinder Wilson sincerely apologizes if your name was inadvertently omitted from her obituary. We acknowledge your friendship and thank you for your prayerful support during our time of bereavement.
Viewing will be held in the Serenity Suite at Restview Memorial Mortuary and Crematorium Ltd., Robinson and Soldier Roads on Friday from 10:00 a.m. to 6:00 p.m. and at the church on Saturday from 9:30 a.m. until service time.