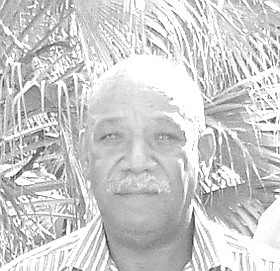 Ricardo Michael Simmons
unknown - unknown
Funeral Service for the late Ricardo Michael Simmons aged 61 years, of Wulff Road will be held on Saturday December 28th 2019 at 10:00 a.m. at St. Barnabas Anglican Church, Baillou Hill Road. Officiating will be Canon Basil Tynes assisted by Fr. Donald Kerr. Interment will follow in the Western Cemetery, Nassau Street.
Ricardo was predeceased by his father William "Bill" Simmons and his grandson Ricardo William Simmons Jr.
Left to cherish his fond memories are his Mother: Ruby Marguerita "Evie" Simmons Wife: Dinah Simmons Sons: Ricardo, Antio, Don and Dijon Simmons Daughter: Madonna Simmons Step-daughter: Charisse (George) McKinney Brothers: Nelson, Craig, Anthony, Stephen, Humphrey, Willie, Garvin, Kino, and Leandro Simmons Sisters: Donnalee Simmons, Sandralee Cartwright and Jacqueline Simmons Sisters-in-Law: Ruby, Cynthia, Judy, Susan, Nikki, Ariane, and Dawn Simmons, Francise Symonette, and Lillian McPhee Grandchildren: Tiara and Ritera Simmons, Antio Jr., Andrianna, Anton and Alaia Simmons, Anwar Jr., and Malik Tucker Step-grandchildren: Dakota Washington, Sean Wilson, Chantol Thompson, Theon and Kendrisse Arthur and Branford Duncombe Uncles: Neville Turnquest, Franklyn Dean, Danny Ramsey and Alexander Greene, Aunts: Margaretta Hepburn, Gloria Campbell, Margaret Turnquest, Virginia Dean, Ann Turnquest, Eleanor Ramsey and Vadie Greene Nephews: Craig and Shavaughn Simmons, Anthony Simmons Jr., Chauncy Adderley, Deston Simmons, Herb Simmons, Hunter Simmons, Nathan Simmons, Destin, Riley and Mason Simmons, Demion Evans, Edwin Wallace, Nathaniel McPhee, Craig and Anthony Saunders Nieces: Germaine Simmons, Anshanique (Chester) Johnson, Shantia (Garfield) Brown, Shaniesha Simmons, Samra Hall, Dorothy Mackey, Charis (Elvin) Carey, Sydnei Cartwright, Jade Simmons, Ava Simmons, Leslie Roberts, Jai-le Simmons, Antoinette and Lakrista Saunders, Joenell Martin, LaToya Ferguson, Wenonah Duncombe, Eugina Darling and LaTasha McCoy Cousins including: David and Charlene Turnquest, Judy Thompson, Ken Turnquest, James and Troy Sweeting, Pedro Turnquest, Marvin Thompson, and Hyacinth Ferguson, Wolanza Dean, Danise Cleckley, Marcus Ramsey, Tamara Gamble, Dominick and Lance Ramsey, Shearine Riley, Alexander, Tarmaine and Valentina Greene, Marcus, Andrew, Gloria and Latoya Sawyer, Rev. Carl Campbell, Patricia Campbell, Nadine Beneby, Brenda Simms, Eleanor Campbell, Monique Glinton, Rosamund Carey, Tyrone Archer, Wesley Archer, Patricia Archer, Valderine Archer, Eunice McKenzie, June Archer, Sandra Archer, Shenika Archer, William "Bill" Poitier, Ishamel, Garfield, Reuben and Maxwell Hepburn, Debbie Campbell, Michael, Jerome, Scott and Netisha Moxey, Delores Davis, Laverne Fawkes, Bernadette Johnson, Janice Roberts, Stephanie Riley,Chavan Smith and Natasha Storr, George, Sister Janice, Philip, Peter and Anthony Coakley, Irma Smith & Family, Preston McCoy & Family, and Firstina Hepburn & Family Relatives and Friends including: Erica Angus, Tracey Trembley & Family, Anwar Tucker Sr., & Family, Harvey Nixon, Sidney Cartwright, Michlene Williams & Family, Cora Gibson & Family, Emerald Sands & Family, Whitlene Cooper & Family, Ronnie & Deanne Archer & Family, Gordon & Mel Wong, Loyce & Cyril Johnson & Family, Sybil Archer & Family, Trevor, Vince and Don Turnquest, Brenda Lamm, & Family, Florinda Morley & Family, Alexander Harris, Chad Chatom, Malika Turnquest, Preston McCoy & Family, the Simmons, Poitier, Seymour, Brown, King, Strachan, Hepburn, Stubbs, Newbold, Turnquest, Archer and Campbell families, Thelma Ferguson, Wanda Walker, Edroy Saunders & Family, Linda Brown & Family, Bishop Gilbert Thompson & Mrs. Olga Thompson, Canon Basil Tynes & Mrs. Sonia Tynes, Fr. Donald Kerr, Sir Franklyn & Lady Sharon Wilson, Mr. E.R. Hanna & Mrs. Carol Hanna & Family, Jerome Francis & Family, Phillip Campbell & Family, Mario William & Family, Gus "Big Jew" Outten, Larry Davis & Family, Yvonne & Camille Campbell & Family, Luzena Dumercy, Georgentina Henderson, Terrance Moxey, Liesl Wright, Kathy Pinder, Ethel Sands, Lolita Moxey & Family, the staff of Bill Simmons Construction & Heavy Equipment Company Ltd., the staff of Apex Pavers Co. Ltd., St. Barnabas Anglican Church Family, the Wulff Road Family, the Deveaux Street Family, all the boys 'in the yard', St. Augustine's College Class of 1975, the staff of the Ministry of Public Works and many others too numerous to mention.
Friends may pay their last respects at Bethel Brothers Morticians & Crematorium #44 Nassau Street on Friday from 10:00 a.m. to 6:00 p.m. and at the church on Saturday from 9:00 a.m. until service time.