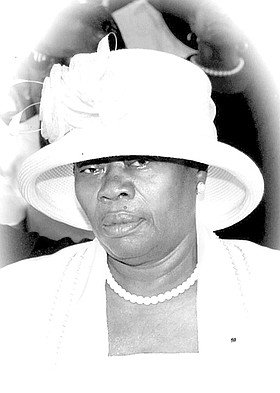 MATRIARCH FAITH ROLLE
unknown - unknown
FUNERAL SERVICE for MATRIARCH FAITH ROLLE, Age 83 years of Ethel Street, Montell Heights, and formerly of Rolleville, Exuma who died Saturday, December 14th will be held on Saturday, December 28th, 2019 at 12:30pm at St. Margaret's Anglican Church, Kemp Road. Officiating will be Father James Palacious; assisted by Father Roland Hamilton. Interment will be made in Woodlawn Gardens Cemetery, Soldier Road and Woodlawn Way.
Faith was pre-deceased by her parents: Daniel and Isadora Rolle; Her foster mother and aunt: Sarah Gray; her lifetime companion: Ronald Hall; her children: Christopher Rolle, Ornald and Beatrice Hall.
She leaves to mourn her passing her Surviving Children: David Rolle and John Hall (British Colombia, Canada); Reserved Cpl. 1751 Paula Rolle and Katie Hall;
Grandchildren: Christopher (Kayla) Rolle Jr., Anthony (Thynera) McKenzie Jr., Bernardo Hall, Kyle Ferguson, Sheddy, Joel and Shane Rolle, Elon Donaldson,
Brett (Carineka) Rolle, Michael (Janelle) Donaldson, Terrell (Amanda) Donaldson,
Casrlene Rolle, Monique Donaldson, Kimberley, Karen, Katherine, and Jade Hall;
Great-grandchildren: Chris Jr, Chrissy, Cohen, Tiara, Terrell Jr., Allyssa, Sheddy Jr., Lacherrio, Darrenique, Jermaine, Sylvester, Kaden, Nataria, Jadda, Jylah, Arthral, Savannah, Daisha, Kalem, Marvin, Antonique, Anthoneria, Ronald, Andron, Bernardo, Keyenday, Anthoneo, and Syndney.
Daughter-in-law: Mavis Rolle
Brothers: Halland Gray (Ft. Pierce, FLA.), Carl and Bertram Gray
Sisters: Queenie Gray and Geneva Ferguson
Sister-in-law: Helen Hall
Brother-in-law: Charlie Ferguson
Nieces & Nephews: Jamal & Chad Ferguson, Pedro, Elliott, Dario, Wayne, Lovie Anthony, Peet and Deon Gray, Edroy Rolle, Winkie, Michael Edwards, Andrew Hall, Barbara, Yvonne, Shelton, Derrick,, Ingrid, Ann, Eloise, Joann, Rhonda, Bradwin, Eslie, Delton and Adasha Hall, Thelma, Mykia, Samuel Martin, Kevin Symonette, Laguana Cooper,
Numerous Cousins: Sybil and Emmeretha Rolle, Sentry and Florence Rolle, Nerline Nixon, Betty Bullard, Edna Baker, Prescola and Thelma Chin, Mrs. Poitier Mayaben, Luellie, Brenda, Esther James, Michelle and Claudette Francis, Dedrie Hart, Ivy Rolle, and Cleomie Lightbourn
Other family and relatives: Hon. Glenys Hanna Martin, Father Oswald Pinder,
Pastor Michael Ferguson, James Rolle & Family, Anthony McKenzie Sr. & Family, Rita Newbold & Family, George Higgs & Family, Mrs. Bell- Rolle & Family, Una Bethel & Family, Donald Ramsey & Family, Nickey Thompson & Family, Neil Holbert & Family, Lynette Johnson & Family, Monique Oliver & Family, Zilpha Mackey & Family, Mr. Wellington & Yolanda Pratt, Vince Cooper, Jillian Meeres, Janette Miller, Bishop Lawrence Rolle, Gary Bethel, Hilton Taylor Natario Sturrup & Family, Margo Swann, Monday, Perez Rolle, Ms. Hilda Charlton, Brenda Laing & Family, Joyanna Hanna, Brenda Duvalier, Paul Adderley & Family, Sunny Morley & Family, Nora Nixon, Glendina Rolle, Staff of Atlantis & Bahamar Resorts, The Stubbs and Brice Families, Red Face Killers, The entire community of Montell Heights, The Mason Addition Crew, The Dream Team Crew, Management & Staff Doc Pharmacy.
Viewing will be held at CLARKE'S FUNERAL HOME & CREMATORIUM, East West Highway on Friday, December 27th from 1:00pm to 5:30pm and on Saturday, December 28th from 11:00am at the church until service time.