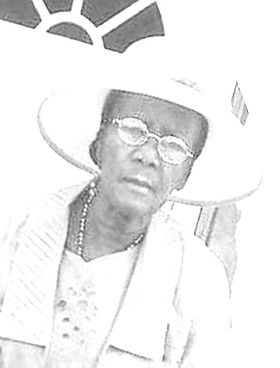 Inez "Mama, Ms. Nezzy" Louise Hunter Kelly
unknown - unknown
Funeral Service for Inez Louise Hunter Kelly age 82 affectionately called "Mama" "Ms. Nezzy" a resident of Lower Bogue Eleuthera-who died at The Pincess Margaret Hospital December 3rd will be held_ Saturday December 28th, 2019 at Charles Wesley Methodist Church Lower Bogue Eleuthera. Rev. J.Marie Neilly assisted by Deacon Wade Higgs will officiate and interment will follow in Henderson View Cemetery Lower Bogue Eleuthera.
Fond and pleasant memories will forever be in the hearts of
Her six children, Billy Kelly and wife Lavern Kelly, Bethry Kelly, Belinda Dorsett and husband Stafford Dorsett , Gloria Williams and husband Victor Williams, Loraine Neilly and husband Patrick Neilly, and Vinton Kelly.
22 grandchildren, Brijhae, Jonathon, Nakito, Tamia, Nicola, Andy, Stephen and wife Dudlitha, Garvin and wife Genesta, Correctional Officer Raymond Bain and wife La-tonia, Trayetter, Dante, Devon and wife Derricka, Shanque, Victorane, Kimberley, Annika, Pathaniel, Swain, April, Retundo, Keshia and Sypresa.
Seventeen great-grand children, Ramirez, Raekwon, Reshante, Demaiyah, Felicia and husband John, Eunise, Devante, Sarah, Troynell, Raynario, Raymiro, Raya, Mark Jr., Malia, Jamal, Jamarri, and J'marion.
Four great great grandchildren, Kylah, Johniyah, Summah and Yaiden.
Sixteen nieces, Nellie, Grace, Lanora Taylor, Lanora Kemp, Irma, Ida, Verneisha, Gaitor, Susan, Dora, Laura, Estella, Jessie, Bertha, and Joy.
Thirteen nephews, Samuel, Erlin, Leyland, Edward, Martin, Berthrum, Harris, Remond, Londy, Terral, Hilverson, Jonathon and Percy . Nine cousins, Mary, Ellen, Cybil, Crestwell and wife Mercia, Harry, Megan, Maxine and husband Michael. Seven grand nieces, Mildred, Leashon, Gillette, Germaller, Darlene, Marsha and Shekera.
Five grand nephews, Alexander, Dennis, Adriane, Gacier and Alvin Jr.
One godchild, Luna Johnson.
One best friend Lucinda Devaux.
And other relatives and close friends including, Deacon Wade and family, Iris and family, Barbra and family, James Munroe and family, Pastor Ednol Cash and family, Devona Wallace, Calvin Johnson, Betty Clark, Birdy Albury and family, Cherese and Cherene and family, Florence Albury and family, Sylvia Moss and family, Lyman Cash and family, Freda Johnson and family, Linda Lightbourne, Mary Joseph, The Lower Bogue Clinic and the entire communities of Lower Bogue, Upper Bogue and The Bluff.
A very special thanks to Shrone Johnson, Dr. Farrington, Nurse Lewis, Nurse N Kelly and Nurse McDonald.
Relatives and friends may pay their last respects at THE CHAPEL OF MEMORIES THE NEW COMMONWEALTH FUNERAL HOME INDEPENDENCE DRIVE Friday from 9:30 a.m.-12:00 no0n and at the church in Lower Bogue from 9:00 p.m. to service time on Saturday.