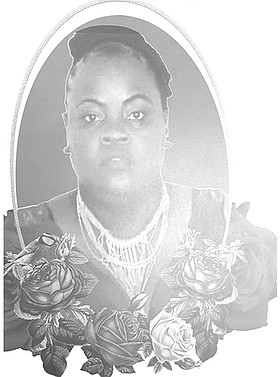 Ellen Loreen Rolle
unknown - unknown
Ellen Loreen Rolle, 49
of Marathon Estates and formerly of Salina Point, Acklins will be held at 11:00 am on Saturday, December 28th, 2019 at Cousin McPhee Cathedral AME Church, Carmichael Road. Officiating will be Sr. Pastor Leroy R Emmanuel and Prophetess Miriam Emmanuel M.P. assisted by Pastor Arnold Bowleg, Pastor Lelia Hanna and Minister Malincha Emmanuel. Interment will follow in the Lakeview Memorial Gardens and Mausoleum, John F. Kennedy Drive.
Left to cherish her memories are her Adopted Children: Paul Clarke, Elinique and Patranique Bethel, Keara Rose; Adopted Grand Son: Dakari Clarke; Significant Other: Damian Hepburn; Brothers: Jessie and Debbie Emmanuel, Bishop Leroy and Hon. Miriam Emmanuel M.P, Attorney Allan and Sandra Emmanuel, Stephen Sr., Kermit, Charles and Willie Rose; Sisters: Doreen and Eloi Carey, Ruby Emmanuel, Stephanie Rose, Yvette Rose Rodgers; Adopted Sisters: Dianne Cooper, Dianne Rolle, Monique Williams, Elva Lightbourn, Eleanor and Jackie Rose and Pastor Malincha Emmanuel; Adopted Brothers: Michael Larrimore, Raymond Lloyd and Levern Edwards; Nieces: Michelle and Clinton Rolle, Shakera and Don Taylor, Alissa Romer, Perdeta Williams, Indira, Audreann, Latoya and Shamika Anderson, Allancia Gaitor, Lashan, Katrina, Kenesha, Kenva, Stevonia, Stephanique, Stefrinique, Shantae, Shanette, Synika, Charlia, Kallia, Kermesha Rose, Arabella and Latrenda Lightbourn, Cinderella and Ingrid Williams; Nephews: CPL 3464 Javon and Kaylisa Collie, Dominic and Kayshelle Anderson, Jaycinto Rolle, Alvardo and Elkeno Bain, Garvin, Jarrad, Alvon and Allan Emmanuel Jr., Eddison, Jonathan, Shawn, Steven Jr., Stevon, Stephen, Monty, Latario, Akeil Rose, Trevor and Deangelo Anderson, Jermaine, Ronald and Cleveland Glinton; Uncles: Robert and Washington Forbes, Augustine Hanfield; Aunts: Flexie and Ronald Jones, Beatrice and Kitchner Penn, Katherine Bryan Rolle, Elisemae, Pamela, Stephanie, Joan and Anika Forbes; Godparent: Curtis Hanna Sr.; 35 Grandnieces; 26 grandnephews; and a host of other relatives and friends including: Sharon Davis, Vangerine Nairn, Elizabeth Armbrister, Mr. Michael Rolle, Tika and BAIC staff, Geneva Jones, Martha Davis and Family, Janet Lightbourn and Family, Edna Saunders and family, Sheila Black and Family, Barbara Murphy and Family, Gloria Campbell, Derinique Johnson, Ruth, Nadia Green and others too numerous to mentioned.
Viewing will be held in the Hibiscus Suites of Rosewill Memorial Mortuary, Market Street and Oxford Avenue on Friday, 27 December, 2019 at 9:00 am to 5:00pm and again on Saturday at 9:30 am the church until service time.