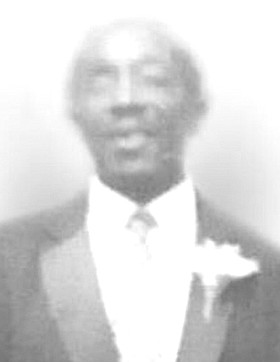 CLEOPHAS ANTHONY BULLARD
unknown - unknown
Funeral service for the late CLEOPHAS ANTHONY BULLARD age 75 years of Pinewood Gardens will be held on Saturday December 28 2019 at  KEMP ROAD Ministries KEMP ROAD
NASSAU, BAHAMAS at 11:00am. OFFICIATING will be Bishop Dr. Shawn Mckenzie Assisted by  Other Ministers. INTERMENT will follow in Old Trail Cemetery, Soldier Road.
He is survived by his three (3) sisters: Vera Bullard, Alice Bullard and Grace (George) Rolle; one (1) brother Ephiriam (Anastacia) Bullard; (1) brother-in-law; Clifford Adderley (1) sister-in-law Camille Bullard nieces:Doreen(Alexander) Cockburn, Georgina (William) Noeville, Vanessa Hield, Lynette Cox, Cecilia (Anthony) Hepburn, Vernika (Bishop Shawn) Mckenzie, Thia Robinson, Denise(Nardo) Rolle, Charlene Johnson, Michelle Adderley, Sherrah Adderley, Samantha (Dr. Timothy) Barrett, Tamara Bullard, Laverne Turtle, Carny Gibson, Angus, nephews: Lasean (Wanda) Farquharson, Ednel(Karen), Kirk, Robert, Garvin and Glen Rolle, Clayton and Wayne(Block) Cox, Darren Bullard, Supt. Stephen (Nicole) Adderley, Ryan Adderley, Whitney Johnson, Alphie Bullard, Ricardo and Daryl Bullard, numerous grandnieces and grandnephews including; Lasean Farquharson Jr., Ahmad, Sujahri & Leshantia Robinson, Periska Rolle, Sherika Fisher, AstraniqueGardiner, Crystal, Kristvio & Dea Rolle, Cradisha & Keyshawn Edwards, Felicia Saunders, Raynell Ferguson, Shawn Jr. & Aaliyah Mckenzie, Torriano & Joelle Barrett, Amber Ferguson, Auterine Clarke, Elliotte, Ricardo & Unalisa Williams, Kenworth Pratt, Jamaal(Shanell) Mortimer, Cory(Deanna) Hied, Jacoda(Robyn)Hield, Venique(Donavan) Adderley, Zephaniah Bullard, Stephen Jr. & Elan Adderley, Ashlyn Pelecanos, Anthony Penn, Robert Jr. & Rodney Rolle, Whitney, Destiny, Carmello, Shanice, Britney & Cameron Johnson, Winnie Cox, De'Vonter, Aaliyah & Adrian Rolle, Garvin & Garvinique Rolle, Nasheika, Lekeisha & Clayton Cox, Darin, Dariniqua, Darrante, Deran, Darinay & Daria Bullard, Louis, Stepuno Johnson. Other relatives and friends including: Family of the late Anthony & Cleveland Bullard, Sylvia Rolle, Geraline Clarke, Keva Rolle, The Family of Marion Rolle, Valeria Major, Melita Bullard, Arnette Pratt, Sherline Rolle, & Pastor Gregory Bullard, Marion Munroe, Shirlene Bullard, Kay Curtis, Gregory Bullard, Bricemae Hall, Lydia Bullard The Community of Rolle Town, & Sunrise Ministries Family; a host of other relatives and friends too numerous to mention.
 
Relatives and friends may pay their last respect at Evergreen Mortuary located on Collins Ave & 5th Terrace on Friday from 11:00am to 2:00pm again at the church from 10:00am until service time.