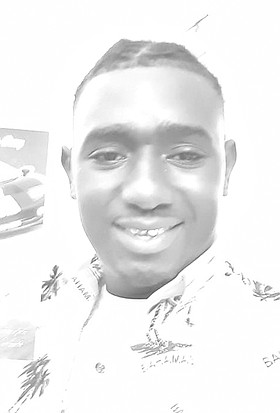 Brian "King Beige" Lester Evans Jr
unknown - unknown
Funeral Service for the late Brian Lester "King Beige" Evans Jr., 29 years of Palm Breeze Road, who died at the Princess Margaret Hospital on Monday, 2nd December, 2019, will be held at Southland Church of God, Soldier Road, on Saturday, 28th December, 2019 at 10:00 a.m. Bishop Goliath V. Burrows assisted by Pastor Simeon Hepburn and other Ministers of the Gospel will officiate. Interment will follow in Woodlawn Memorial Gardens, Soldier Road.
He is survived by his Father: Brian Lester Evans Sr.; Mother: Gena Aneta Larrimore Evans; Sons: Brian III, Thorianno and Cash Evans; Sisters: Shekedra, Sanovia, Bianca and Brittney Evans; Brothers: Brandon Evans, James Hinzey Jr., Eleazor Hinzey and Elvis Munroe Jr.; Grandmother: Helen McQueen; Fiancé: Jafhra Saunders; Aunts: Bridgette Brown of West Palm Beach, Florida, Denise Hinzey, Dellareese Roberts, Shenique Thompson, Sophia, Daphnie and Cheryl, Tanya, Ann and Stephanie Larrimore and Decianna Evans; Uncles: Rommell Evans, Stephen Larrimore, James Hinzey Sr., Jerome Thompson and Ricardo Roberts; Nieces: D'aja, Romeka, Anthanae, Amelia, Sasha, Claire, Jasonique' and Aldeanya; Nephews: Alexander, Miguel and Tyrek; Cousins: Shandira, Alexis, Paris, Shantel, Wanria, Shakay, Richandia, Terrell, Elton, Keisha, Steffi, Tevin, Madeline, Reonda, Aiden, Shaquille, Deontae, Angel, Lisa Forbes, Philencia Dames, Jacqueline, Delaura Laing, Ebenezer Frazier, Eric, Anthony, Dereck, Rondon, Alvin, Brenda, Abvadale, Dexter, Patrice, Laverne, Sharon, Shenique, Johnell, Pandora, Marina, Bernadette, Melanie, Stacy, Monique, Christine and Lynden; Grand Aunts: Cinderella Moultrie, Cleomie Whyms, Patsy and Sandra Evans; Godchildren: Azaria, Floyd and Rodneka; Friends: Latoya Johnson, Rodna Darville, Danario Rahming, Delano Munroe, Serrano, Sullivan, Tank Head, Vazzy, Jude, Ping, Dee-Dee, Vano, Plucky and AJ; Other relatives and friends including: Pastor Simeon Hepburn, First Lady Hepburn, The Hepburn, Evans and Larrimore families; Shantell Ferguson and Family, Sheila Pinder, Nicola Rolle, Jason Huyler and Family, Ms. Pinder and Family, the Munson Village Family, the Chippingham Family, the Pitt Road Family, the Bain Town Family, the Rock Crusher Family, K.F.C. (Restaurant Bahamas), the Airport Authority, Kay's Fine Jewelry, Southland Cathedral, Prayer Warriors, the T.G. Glover Family, Taxi Drivers, the Kemp Road Family, and the Laing Family; and many other relatives and friends too numerous to mention.
Relatives and friends may pay their respects at Grace Funeral Home, #36 Rosetta Street, on Friday from 10:00 a.m. to 6:00 p.m. and on Saturday at the church from 9:00 a.m. until service time.