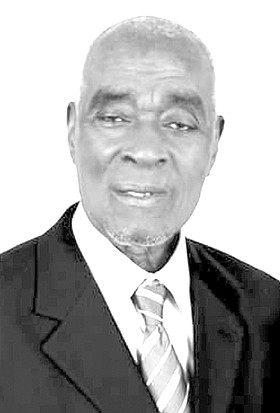 Assistant Pastor Nathaniel "Lynwood" Mackey Sr
unknown - unknown
Funeral service for the late Assistant Pastor Nathaniel (Lynwood) Mackey Sr age 87 years of Mermaid Blvd and formerly of Bowen Sound, Andros will be held on Saturday, December 28st, 2019 at 10:00 A.M. at Transformation Ministries INTL, Dignity Gardens. Officiating will be Diocesan Bishop Ellis Farrington Sr assisted by Other Pentecostal Assemblies Of The World (Paw) Suffragan Bishops. Interment will follow in Woodlawn Gardens, Soldier Road.
He was pre-deceased by: Wife: Evangelist Merlene Mackey; Daughters: Francetta Jones and Sheena Mackey Grandchild: Miguel McKenzie and Ebony Brown
His memory will forever linger in the hearts of: Sons: Ezra, Nathaniel Jr., Jeffrey Sr., Pastor Keith and Ashley Sr. Mackey; Daughters: Zilpha Evans, Bloneva Smith, and Pastor Claudell Farrington; Sons-in-Law: Claude Farrington Sr., Deacon Kendal Jones Sr., Retired Superintendent Morey Evans Sr. and Vernell Smith; Daughters-in-law: Cheryl, Sheena and Pastor Shantell Mackey and Minister Zoneita Jones; Sisters: Catechist Adline Wilson, Mother Daisy Farrington and Amanda Bain; Brothers-in- Law: Diocesan Bishop Ellis Farrington and Ernest Duncombe; Sisters-in-Law: Pastor Madeline and Bloomin Mackey; and Geneva Bain; Grandchildren: Samantha and Shavane Turnquest; Lacoda and Corbin Darling (Ohio); Jeffrey Jr. and Ashley Mackey (Canada); Nathalie and Damian Stubbs; Nakishna and Torriano Curtis; Lashonda and Brenton Charlton Jr., Tara and Antonio Johnson; Tavaneo (Tampa) and Kendal Jones Jr.; Claude Jr. and Caleb Farrington; Vanessa Bethell (England); Morey Evans Jr.; Troy Bethel Jr.; Jachan and Shakeya (Orlando), , J'Anquo, Marco, Lindera, Valteria Rolle, Kevin, Erizona, Kayle, Ashley Jr., Ashton, Tyrese, Amari, Ashanae, and Attorney Alexandria Mackey; Shantera and Bermann Eugene; and Ebony( Remove); Great-Grandchildren: Sky, Maddison and Dean Bethell (England); Chase and Chai Turnquest; Evyn Darling (Ohio); Lanyah (Canada) and Saige Mackey (Orlando); Itali and Carter Johnson; Damian Jr., Diamond, Dominick and Trinity Stubbs; Blair and Bailey Charlton; Niyah Jones (Tampa); Kiarjae Hepburn and Nia Curtis; Malinda, Shandera and Carmelle Eugene; Nephews: Julian, Norris, Clayton, Ronald, Israel, Wilfred, Henry, Austin, Simon, Lincoln, John and Pastor Carlton Mackey; Phillip, Kirkwood, Kenwood, Pastor Ellis II, Pastor Derek, and Suffragan Bishop Dr. Anthony Farrington; Franklyn, Alfred, Theodore and Bradley Davis; Edison, Deon and Minister Adrian Duncombe; Luther, and Jollen; Hermon, Dennis, Taras, Raynor, Renaldo, Paul, Andrew, Anthony and Whitney Bain; Harold and Charles Wilson; and Calvin Jones; Nieces: Shirlene, Rozena, Sheila and Joanne Mackey; Carolyn, Rosalie and Annette Farrington; Anita, Minerva and Maggie Wilson; Patrice and Mabel Bain; Carolyn Robinson, Pearlene Smith, Pastor Annamae Duncombe, Olive Harris, , Sharmie Farrington-Austin, Linda Johnson, Tammy Triolo, Nyoka Duncombe, Harriet Benoit, Malketta Smith, Patricia Davis, Betty Wilson, Brenda Bannister, Stephanie Brown, Karen Melenon, Beverly Clarke, Deborah Bomar, astor Natasha Miller, Doris Anderson, Alexis Lewis, Georgiann Carroll and Artest Williams; Adopted Children: Suffragan Bishop Dr. Sharon Rolle; Tanya Demeritte, Angelica Hamilton, Pastor Betty Hanna, Geraldine Mackey, Marsha Morley, Olina Lundy, Kenderia (Fubba) Knowles, Jacob Rolle, and Elder Kimberlyn Darville; Godchildren: Nh-Choira, Sheila and Joann Mackey; Juanita Neymour and Ellen Anderson; Other Relatives Hon. Adrian Gibson MP Long; Hon. Picewell Forbes MP Central, South & Friends: Andros and Mangrove Cay; Bishop Dr. David Sr. & Co-Pastor Geisha Braynen & family; Suff. Bishop Bruce farrington & family; Pastor Arnold & Joy Nesbitt; Herbert & Gloria & family; Isabella Nesbitt & family; Susan Johnson & family; Mildred Anderson & family; Bishop Raymond Mackey & family; Pastor Harold Mackey & family; Apostle Dorinda Dean & family; Pastor David Braynen Jr. & family; Dr. Eric Brown & family; Mary Bowe & family; Mabel Stubbs & family; Clara Newbold & family; Richard and Naomi Clarke & family; Nelson & Shirley Gaitor & family; Apostle Michael Miller & family; Edris King & family; Hazel Sargent & family; Eddison  Robinson & family; Pastor Charles Anderson & family; Pastor Ossie Poitier & family; Min. Don Marsha King & family; Apostle Hayward Nesbitt & family; Pastor Patricia Coakley-Deveaux & family; Jenette Coakley & family; Edna Leadon & family; Olgal Seymour & family; Adrianna Mckenzie & family; Rudolph Coakley & family; John Saunders & family; Rupert Pinder & family; the Evans, Lamb (England), Morley, Cooper family; Leadon family; Evangelist Idamae Nesbitt; Madeleine Jean; Juanita Munroe; Mary Hanna Rolle; Sylvia Johnson & family; Cinderella Hinsey, Rosanna Lewis, Moesha Rolle, Nia Smith; Adriana Lowe; Mother Rachel Mackey; Mother Gloria Dawkins & Shirley; Tatyana Pratt; Shanaye Smith; Ryan & Maryann Brown, Talnisha Pierre, Hosea Hinsey, Bishop Charles Rolle & family, Bishop Levry & Mother Cora Lewis, Evangelist Norville, Nurse Edgecombe, Pastor Samuel Mcintosh, Nelson, Telcina Thompson, the Registrar's Office (University of The Bahamas); Glen Pratt & Glen Air Charter Services, The Progressive Liberal Party family; The Material Management BTC Staff; Dr. Lockhart; Dr. Munnings; Dr. Hall  of the Surgical Ward (PMH); Nurse Blatch  &  the entire staff of Med/Sur. II (PMH); Churches: The entire Pentecostal Assemblies of the World (PAW) churches in Andros, Bowen Sound Pentecostal Church, Greater Power House,  Pastor Princess Burrows & New Highway Pentecostal Church,  Pastor Olive Curtis & Highway Pentecostal Church, Blanket Sound; District Elder Stephen Adderley & Barc Community Church; Suffragan Bishop Christopher Minnis and Greater Bethel Cathedral; District Elder Portia Ferguson and New Life in Christ Intl.; Transformation Ministries and Campuses; Suffragan Bishop Ezekiel Munnings and God's Temple of Praise; Suffragan Bishop George Duncombe and Little Jerusalem Apostolic; District Elder Troy Mott and One Way Holiness Church; Suffragan David Higgins, District Elder Redwood and Faith Apostolic Church; Pastor Wendel Duncombe and Prayer and Worship Ministries; Pastor Calvin Kemp and Glad Pilgrim Apostolic Church; Suffragan Bishop Paul Rolle and First Apostolic (Freeport); Pastor Ophelia Cox and Greater Bethel Temple (Inagua); the entire Pentecostal Assemblies of the World Churches and family in The Bahamas; Christ Temple Apostolic Ministries; Soul Seeking Ministries; New Beginnings Jubilee Baptist; the entire Bowen Sound, Cargill Creek and Andros communities and churches.


I have fought a good fight
I have finished my course
I have kept the faith
Henceforth there is laid up for me
A crown of righteousness which the Lord
The righteous Judge shall give me at that day!
The family of the late Assistant Pastor Nathaniel (Lynwood) Mackey Sr sincerely apologizes if your name was inadvertently omitted from his obituary. We acknowledge your friendship and thank you for your prayerful support during our time of bereavement.
Viewing will be held in the Serenity Suite at Restview Memorial Mortuary and Crematorium Ltd., Robinson and Soldier Roads on Friday from 10:00 a.m. to 6:00 p.m. and at the church on Saturday from 8:30 a.m. until service time.