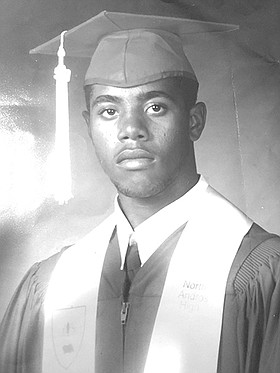 Travis Lavar Knowles
unknown - unknown
Funeral Service for
Travis Lavar Knowles, 38
of # 9 Blue Hill Heights and formerly of Nicholl's Town, North Andros will be held on Saturday, December 21, 2019, 10a.m. at Church Of God Of Prophecy, Life Transformation Centre, East Shirley Street. Officiating will be Senior Pastor Dale Moss assisted by Associate Pastor Paulette Johnson. Interment will follow in Eastern Cemetery, Shirley Street and Lover's Lane.
He is survived by his Mother, Mrs. Chantel Patricia Ebanks-Rolle; Father: Mr. Robert Livingston Knowles Sr.; Step Father: Mr. Swendel Rolle; Step Mothers: Jackie Knowles and Sharron Knowles; Grandmothers: Norma Hutchinson & Agatha Bowe; Sisters: Temra & Tanell Russell, Tayah Rolle, Tabatha Coleby, Dien, Tenia Curry; Brothers: Tito Treco (Austin Texas), Lerone & Tannick Knowles, Robert Knowles Jr, Tyler Russell (Oklahoma), Ethan Munnings, Mcwell Turan Pratt; Step Sisters & Brothers: Swenda, Shonnise, Sheryl, Shavard, Swendel Rolle Jr.; Nieces & Nephews: Siriyah Russell, Melodi Ferguson, Sabrina & Teresa Treco (Austin Texas), London & Lanell Knowles, Kaylyn Williams, Gleneice Smith, Destiny Dexter Russell, Printino Clarke Jr, Lerone; Jaydon Knowles; Aunts: Tasha Munnings, Joy Ebanks Outten, Constance Lightbourne, Glenda Taylor, Antionette Braynen, Natasha Barr, Carol Ferguson, Faith Thompson; Uncles: Brent Munnings, Nick Ebanks, Neville Ebanks Jr (Naples, Florida), Henry Ebanks (Puerto Rico), LeritoEbanks (Cayman Islands), Steven, Lincoln & Joel Lightbourne, IGan Bowe, Elkin Outten; Grand Aunts: Betty Lou (London), Sandria Nugent (Cayman Islands), Delcine Hutchinson & Vernell Hutchinson; Grand Uncles: Leon Hutchinson, Vanlock Fowler, Solomon Roberts Sr, Patrick, Leslie & Albert Bowe, Errol Ebanks (Cayman Islands); Sister-in-law: Jessee Dawson Treco (Austin, Texas) and Whitney Herious; Brother-in-law: Aaron Dean; God Mothers: Kim & Deanne Conyers, Tracey Rolle, Paula Russell & Freda Storr; Other Relatives & Friends: Mr. Urias Seymour, Wilton Pickstock, Toure Holder, Jenny Cartwright, Mark, Cyril Marshall, Adra, Kendra, Benjamin Thurston, Arthur Newbold, Lathario Ferguson, George Burrows, Coral, Shanya, Charlisa, Georgiann, Willena Ferguson, Nelson Smith Sr, Kenwood Higgins, Parry Culmer, James Sweating, Patrick, Camron, Andrew Moss, Barbara Roberts, Gigi, Lily, Paige Evans, Deserie Roberts, Gail Audrey, Cynthia Conyers, Anesto, Marto, Helen Lord, Vanda & Vaneria Rahming, Perry Scott, Tina, Queenie, Caprice Spencer, Collin Coleby, Mr.&Mrs. Karrington Davis, Brian Riley, Jack Saintil, Deborah & Rudy Bowleg, Connie, Anita & Nicola Russell, Daron & Linda Evans, Harris, Maisie, Thomas Sr. Shanell, Derry, Anthony Sr, Milton Evans, Jamie Renata, Chantel, Gewn Smith, Jundy, Ambika, Yvette Treco, Morris Russell, Harold Treco, Florence Pratt-Myer, Laurie Treco, Jessica Marley, North Andros High School Class of 1989, Pinewood Family, Kemp Road Family, Nicoll's Town North Andros Family; Special thanks to: Nurses, Doctors, Ambulance Drivers, Accident & Emergency, also the Central Detective Unit; Extended Family: Lincoln, Eric, Forrester Jr, Patrice, Sandra Rolle. If we missed anyone we do apologize, too numerous to mention.
Viewing will be held in the Legacy Suite of Vaughn O. Jones Memorial Center, Mt. Royal Avenue and Talbot Street on Friday from 12:00 noon to 5:00p.m. and on Saturday at the church from 9:00a.m. until service time.