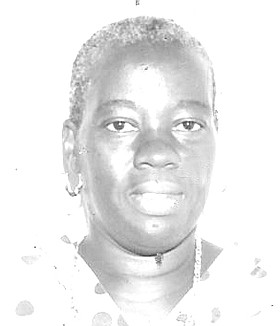 Sophia Inez Rolle
unknown - unknown
Funeral service for
Sophia Inez Rolle, 54
a resident of Dorsette Street, Fox Hill, will be held at St. Anselm's Roman Catholic Church, Bernard Road, Fox Hill on Saturday, December 21, 2019, at  2:00 p.m.  Officiating will be Fr. Noel Clarke, assisted by Deacon Rev. Mr. Ricardo Demeritte. Interment follows in St. Anselm's Cemetery, Bernard Road.
She leaves to mourn her children: Nakisha Hall-Harris, Castello and Dwayne Jr.; parents: Vincent and Genevieve Paul; grandchildren: Tyrek, Marcheneke, Marcia, Romaine, and Romia; siblings: Javie Paul, Leonardo Paul, Monique Paul, Amanda Hield, Delores Adderley, Devon Paul and Antoinette Wilmore; son-in-law: Romaine Harris; nephews: A'charniko Evans, Ashien Storr, Rashad Smith, Devon Paul Jr., Kenrick Arthur Jr., Keron Arthur, Theon Arthur; neice: Kendrice Arthur; grandniece: Renae Evans, Kenliah Arthur; grandnephew: Ashien Storr Jr.; brother-in-law: Samuel Adderley; Aunt: Eva Rolle; uncle: Raymond Chea; cousins & their families: Douglas Nixon, Jeffrey Hutchinson (Deiree), Joan Marc(Jeanot), Barbara Cash, Serena Newchurch, Paulamae Cooper(James), Ritchie Newchurch (Alsaida), Nathan Newchurch (Charlotte), Samuel Newchurch, Abraham Newchurch, Judy Newchurch, Chriscola Johnson (Simon), Charmaine James (John), Olive Mackey, Cherry Ann Knowles, Rosana Pooran, Capucine Armally (Anthony), Gloria Moss (Lynden), Ambrosine Ingraham (Anthony), Anselm Chea (Santina), Anaclado Rolle, Suzette Rolle, James Rolle, Meridith, Tershanka, Nadia, Hedemae Smith Gloria Smith, Florence Smith, George Smith (Rosie) and Joe Smith (Patrice), Santushi  Ferguson, Simone Miller, Idel Ferguson, Thelma Smith, Dorothea Rahming, The Roberts, Fernander, Bowleg  family(Fox Hill), Patsy Moss, Marilyn Rahming, Zelma Knowles, Cedric & Frederick Knowles, Annis, Mae, Dianne, Sonia Brice;
 
Extended family: Renee Knowles, Deacon Burrows, Christopher Demeritte and the staff of the Chancery Office, Leslie Hutchinson, Larry Higgs, Inza Frith
 
Other relatives & friends: Dwayne Delancey, Marchello Burnside, Don Carey, Patrice Brown, Charmaine Eve,  Lulamae Greaves, Lee Duncombe, Ida Major, Sylvia Edgecombe, Sheila Fernander & Family, Elizabeth Darville & Family, Cora Davis & Family, Doan Davis & Family, Dr. Jacinta Higgs & Family, the Ferguson Family, Dorothy Demeritte & Family, Ann Campbell & Family, Elizabeth "Sister" Butler & Family, Nora Hepburn & Family, Evangeline Penn & Family, Trevor Vincent, Sharon Ferguson & Family, Addison Edgecombe, St. Anselm's Senior Choir, Most Rev Patrick C. Pinder, Fr. Noel Clarke, Deacon Ricardo Demeritte, Deacon Raymond Forbes, Marian Edgecombe, Michelle Cargill, LW Young class of 1983, residents of Dorsett Street, Step Street, Grant Street and Adderley Street.
 
Friends may pay their last respects at Demeritte's Funeral Home, Market Street, from 12-6:00 p.m. on Friday & on Saturday at the church from 1:00 p.m. until service time.