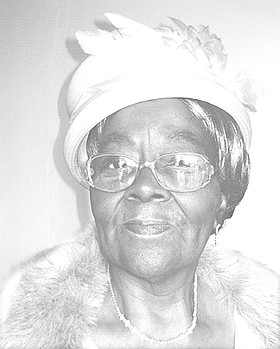 Retired Nurse Brunell Pandora Mezain Munroe
unknown - unknown
Funeral Service for Retired Nurse Brunell Pandora Mezain Munroe, age 84 years, a resident of #15 Eleuthera Drive, Yamacraw Beach Estates, and formerly of Duncan Town, Ragged Island, will be held at 10:30 a.m. on Friday December 20th, 2019, at Christ The King Anglican Church, Ridgeland Park west. Officiating will be Archdeacon Kingsley Knowles, assisted by Rev'd. Fr. Colin Humes and Rev'd. Fr. Berkley Smith. Interment will follow in the Woodlawn Gardens, Soldier Road.
She is survived by her Children: Carmelina, Richard (Adrianne), Dr. Locksley (Marjorie), Alaric, Sr. (Sheila), Blondell (Johnny), Alan (Vanina), Carla, Amelia (Steve), Sheldon (Phillis), Gail (Gawin) and Evelyn. Best Friend: Ellis Curling, Jr.; Grand Children: Dr. Lo'Mar (Tatum), Lerone, Sr., Willis (Zeleka), Bjorn, Alaric, Jr., Cedric, Keno, Kevin, Rico, Remardo, Aleksei and George. Michelle (Kenny), Candia (Sheldon), Annie-Laurie, D'Andra (Darryl), Alexandria, Jasmine, Ellise, Asha and Shelisha; Great-Grand Children: Stefano, Alverez, Tarik and Lerone, Jr., Sasha, Selah, D'ana and Remyah; Sister: Ella Rahming. Uncles: Elvin and Simon Bridgewater. Brothers-in-law: Prince Rahming, Errol Munroe, and Clarence Ferguson III; Sisters-in-law: Verdell Ferguson, Mary, Elizabeth and Faydora Munroe; Cousins: Priscilla Johnson & families, Schandles Daniels, Kyomi McKeithen, Camille Johnson, Leonard (Valerie), Ernie, Kurt (Callonna), Wayde (Shavon) Wallace & families, Francina Thurston & families, Willamae Bridgewater and families, Dorothy, Vicky, Sadimae, Gloria and families, Alfreda, Christina, AnnaRosa, Diana, Janice, Debra Burnell, Jr., Anthea, Myrna and Nataki, Techla, Olga, Adeana, Cora and families, Faycita, Kendall, Jacob, Angela, Horace, Harlem, Micheline and families, Delmita Seymour and family, Hilda, Ernal, Wilmore, Ralph and families, Ann, John, Lester and families, Theary, Julie, Chris and Greg and families. Numerous Family and Friends including: Patrick (Rose) Lockhart & family, Boycle (Sandra), Lesardo (Malvese), Raphael (Ida), James (Birgitha), Delphine, Dr. Mercianna Moxey & families, Calvin (Felice), Florine, Esteleena, Raphael (Majorie) & James (Martha) Wallace & families, Celestine (Robert) Cox & family, Eugene (Avis), Drexel, Dr. Margo, Crispus (Jacqueline), Stephen Munroe & families, Sabrina (Burkie) Wright & family, Michael, Julian (Felicien) and Gerard (Gerry) Wilson, Karen Coleby & Juliette Wilson-Frasier & Families, Prudence (Don) Mackey & family, Marvin (Monique), Dudley (Cenedell), Elsie Stubbs & family, Valarie Cleare & family, Carla (Mark) Bastian & family, Deborah (Bruce) Johnson & family, Lisa Hall & family, Richard, Chantal & Rev. Stephen (Nadine) Munroe, E. Earilee Munroe & families, Leslie (Tracey) Derwin, Lanson (Patrice), Manell Munroe & families, Caroline Heastie, Joanne Brooks, Marlene Martinborough, Mazie and families, Florinda Hepburn and families, Enid Lockhart and families, Craig Maycock and families, Alvin Munroe and families and a host of other relatives and friends including: the entire Ragged Island, Yamacraw Beach Estates and Christ The King Parish Church communities, and many more too numerous to mention.
Relatives and friends may pay their respects at Cedar Crest Funeral Home and Crematorium Ltd, Robinson and Baillou Hill Roads, on Thursday from 12:00 noon to 6:00 p.m., and at the church on Friday from 9:30 a.m., until service time.