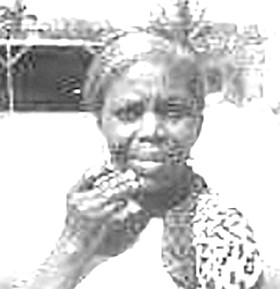 Monique Oscar Toussaint
unknown - unknown
Funeral service for
Monique Oscar Toussaint, 63
a resident of Palmetto Point, Eleuthera & formerly of Port De Prince, Haiti, will be held at Calvary Haitian Baptist Church, West Avenue, Centreville, on Saturday, December 21, 2019 at 11:00 a.m. Officiating will be Dr. Henri Cher-Aime, assisted by Pastor Walter Jr. Lucien & other Ministers. Interment follows in Southern Cemetery, Cowpen & Spikenard Roads.
Mother and father: Mm Michel Calixte
Children: Gerda Toussaint, Erlande Toussaint Cepoudy, Jenny Toussaint, Julianne Toussaint and Matesh Toussaint
Grandchildren: Mike -Stanley Pierre, Shandly Pierre, Gibson Cepoudy, Banjie Gerbil, Cindy Gervil, Harmony Mackey, Whyite Sands, Prince Toussaint, Dwenelley Joseph, Mattaiya Toussaint, Jaynell Mackey, Bensley Desmosthene, joy Toussaint, Termy Naureus
Sisters: Yranise, Micheline, and Mislene Calixte
Brothers: Wilner, Sidene and Antoine Calixte also Oster Oscar and family
Nephews: Sherman Demosthene, Chales Pierre, Jeanrico and Layens Calixte, Wesley and Divens Joseph
Nieces: Midlin and Jenny Joseph
Cousins: Mme Wilner Remy, Fortinat Calixte, David Calixte, Linda Calixte, Ester Calixte, Mark Calixte, Nadia Calixte, Zianne Calxite, Wolbins Calixte, Robins Calixte, Janice Calixte, Roseline Calixte, Roselene Calixte, Yvenette Estinor and others
Special friends: Liveta Jean Simon, Moesha Esterling and family, Rigenald Naureus, Adele-Rose Cherichel, Joey Ferguson, Damika Ariste Saint-Vil and family, Rosline Genie,  Katherine Morrison Sr., Katherine Morrison, Kesha Pinder, Rochelle Lightboure, Mrs. Judy Woods, the sands family, Doctor Bethel (P.M.H) M/V Day Break Captain and crew.
Friends may pay their last respects at Demeritte's Funeral Home, Market Street, from 12-6:00 p.m.on Friday & on Saturday at the church from 10:00 a.m. until service time.