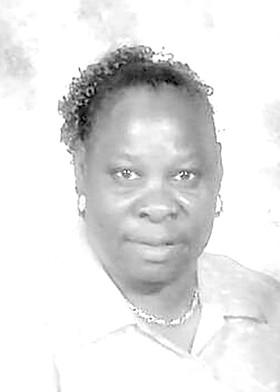 Matriarch Marietta Pierre
unknown - unknown
Funeral service for the late Matriarch Marietta Pierre age 74 years of Revival Faith Way, Malcom Road will be held on Saturday, December 21st, 2019 Pre-Service at 10:45 a.m. and Service at 11:00 A.M at Our Lady's Catholic Church, Deveaux Street. Officiating will be Fr. Jonathon Duka, assisted by Deacon Maxwell Johnson. Interment will follow in Woodlawn Gardens, Soldier Road.
Left to cherish her memories and legacy are:-Lifelong partner of forty-one years: Alouius Thelamour; Daughters: Lucie Alouidor-Durosier, Carline Jean-Pierre-Charlestin, Anita Thelamour, Mealon Thelamour-Sinor, Melchiarde Ferdinand-Pierre-Louis, Rena Morisette; Sons: Jean-Claude Morisette, Josue Jean-Pierre, Dieudonne Pierre-Louis, Saint-Louis Durosier, Harold Charlestin; Granddaughters: Ketnie and Djoulianie Durosier, Nadege Morisette, Fadlyn Morisette, Samantha, Josebintha, Julie, Olupcie and Guideline Jean-Pierre, Stenyah and Steshah Pierre-Louis, Saniyah Thelamour; Grandsons: Briguel and Alexander Durosier, Robens Morisette, Dasrode and Davidson Jean-Pierre, Gener Joseph, Kensley and Yardley Pierre-Louis, Erold Charlestin, Michael Morisette, Roscoe Strachan, Marico Sinor; Great granddaughters: Juliette Joseph, Ganina and Katalia Jean-Pierre; Great grandson: Rooben Jean-Pierre; Adopted grandson: Miler Thelamour; Sisters: Mariette (twin sister), Rose-Marie, Anna-Marie, Marie-Mercie, Marise, Jessie Pierre; Brothers: Andre, Jean-Claude, Jean-Harry, Jean-Rony, Dizan, Nacuis and Jean-Deus Pierre, Hawois and Marc Antoine Saurel; Nieces: Laurette, Roudlyn, Emilia, Laika, Gensda, Mishelda, Roline and Sharina Pierre and Sabrina Saurel; Nephews: Benedict, Dennis and Navoix Pierre, benedick &Weggie Jacque, Jean Denis Navoix Pierre, Kesner Saurel, Shwon, Rashard and Johnathan Pierre; Numerous great grandnieces and grandnephews; Caregiver: Juliana Virgile; Other relatives and friends including Jean Jean-Pierre, Philia, Michelet, Emile, Rosebertha, Monica, Philippe, Wapner Francois, Samuel Celestine, Brittany and Brenda Prudhomme, Erinique Rolle, Willy and Myrlande Charles, Jean-Joseph Exil, Navius Loussiant, Kendal Ingraham, Catherine Theresias & Family, Marie Ferdinand & Family, Lazarre & Yanick Xavier, Lunia Decius, Edwige Louis & Family, John Joachim & Family, Shanressa Smith & Family, The Doriscar Family, The St.Louis Family, Erith Jean & family, The Louis Family, The Fortune Family, The Richardson Family, The McCoullough Corner and Mason's Addition families; Special thanks to Pastor Vaughn & Wendy Cash, Vernita Lopez, Judith Taylor, Sis. Alice Adams, Valarie Murphy, Bettymae Holmes, Deacon Mackey from St. Bedes Church, Shenise Ferguson, Erica Moss, Kim Duncombe, Sandra Saunders, Evangelistic Temple Choir Family and the entire Evangelistic Temple Church family for your prayers and support.
 
The family of the late Matriarch Marietta Pierre sincerely apologizes if your name was inadvertently omitted from her obituary. We acknowledge your friendship and thank you for your prayerful support during our time of bereavement.
Viewing will be held in the Serenity Suite at Restview Memorial Mortuary and Crematorium Ltd., Robinson and Soldier Roads on Friday from 10:00 a.m. to 6:00 p.m. and at the church on Saturday from 8:30 a.m. until service time.