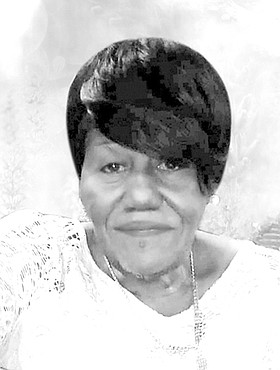 Marjorie Louise Wallace
unknown - unknown
Funeral Service for
Marjorie Louise Wallace, 80
of Yellow Elder Gardens and formerly of Lower Bouge, Eleuthera who died on Friday, November 22, 2019 will be held on Saturday, December 21, 2019, 11:00 am at Wesley Methodist Church, Lower Bouge, Eleuthera. Officiating will be Rev. Marie Neilly assisted by other ministers. Interment will follow in Lower Bouge Public Cemetery, Lower Bouge, Eleuthera.
Left to cherish her memories are her daughter, Theresa Frazier; sisters, Minister Emerald Cash and Beryl Neely; brothers, Basil and Alvin Neilly; brother-in-law, Pastor Emeritus Ednal Cash; adopted children, Answell Johnson, Minister Diane Duncombe, Minister Kim Duncombe and Avard Cargill; nieces, Elaine Cash Ferguson(Commissioner of Police Anthony Ferguson), Rev. Monique Davis (Pastor Darron Davis), Pamela Culmer (Kevin Culmer), Sanez Cash, Antionette Jackson (Donovan Jackson), Naomi Cox, Aramae Neely, Florine Russell, Lavina Curry, Rosanne Hunter and Annette Neilly; nephews, Ednal Cash Jr., Randy Neilly, Mark Johnson, Jeremy Pinder, Howard Neilly, Police Corporal Dion Neilly, Gary Neilly and Gary Albury; grandnieces and grandnephews including: Indira Minnis, Nurse Renilisa Higgs, Italia Rolle, Shavonne Saunders, Christy Renae Russell, Antoine Ferguson, Clyde Cornish Jr., Christoff Cornish, Litthayo Barry and Antonia Adams; cousins including: Eleanor Saunders, Patricia Pinder (Bernie Pinder), Tootsie Hunter, Sandra Albury, Malford and Gina Brown, Cleomi Culmer, Ethlyn Rowlands, Marie Andrews, Samantha Farquharson, Sylvia Bonaby (Greg Bonaby) Terrance and Arlington Hunter, Margaret Fernander, Thomas Albury and Thursa Dean, Paula Albury, Koreon Johnson, Geneva Rolle, Anamae Davis, Flori Ferguson, Izzie Frazier, Sherise Smith, Calvin, David and Charlie Frazier, Winston Albury and Family, Lucinda Deveaux and Family, Willamae Albury and Family, the Families of the Late Sarah Neilly, The Late Wendall Neilly and The Late Campbell Neilly, Claudia Brown, Marinette Neilly, Pandora Cash, and the Brown Family of Current Island; Other relatives and friends including: Bishop V. G. Clarke, Elder Beverly Clarke, Keva Adams, Jayson, Glen Vernal, Ricardo and Lavonne Clarke, Elder Liman Cash and Family, Bishop James Newry and Family, Bishop Creswell Cash and Family, Bishop Dudley Kelly and Family, the Families of the Late Olive Kelly, The Late Arthur Albury, The Late Clayton Kelly and The Late Perkins Bain; Special thanks to: Barbara Burrows (Caretaker), Samuel Strachan, Dr. Christopher Gomez, Dr. Nixon and the Staff of Princess Margaret Hospital, Claudine Johnson, Jason McPhee and Family, Enid McPhee and Family, Mrs. Knowles and Mrs. Enid Babbs, The Calvary Deliverance Church Family, The Yellow Elder Community and The Community of Lower Bouge, Eleuthera and all those too numerous to mention.
Viewing will be held in the Legacy Suite of Vaughn O. Jones Memorial Center, Mt. Royal Avenue and Talbot Street on Thursday (TODAY) from 12:00 noon to 5:00 pm and at the Church in Lower Bouge, Eleuthera on Friday from 7:00 pm until service time on Saturday.