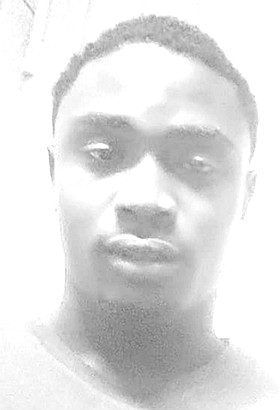 MALIK AKIL ROLLE
unknown - unknown
MALIK AKIL
ROLLE, 20
a resident of Miami Florida & formerly of Nassau, will be held at Southland Cathedral Church of God, Soldier Road, on Saturday, December 21, 2019 at 10:00 a.m. Officiating will be Bishop Goliath Burrows, assisted by Minister Earnest Colebrook. Cremation follows.
Left to cherish his memories are his Mother: Vandette Rolle; Father: Roosevelt Rolle (Atlanta, Ga); Sisters: Khadisha Rolle, Dominique Rolle and Arlinqua Johnson; Brother: Taneko Bastian Jr.; Nephew: Jaiden Dorsett; Grand Father: James Rolle Sr.; Grand Mother: Bonita Rolle (Predeceased); Great Grand Mother: Alrina Edgecombe; Aunts: Tamara Johnson, Nia Thurston (Atlanta, Ga), Omeka Meeres, Christal Meeres, Delores Edgecombe, Stevanna Beneby, Kristen Beneby, Marvia Skelton, Rosemary Taylor, Suzanna Thurston, Sandy Thurston, Kenva Thurston, Dawn Taylor (Miami, FL), Germaine Smith (Abaco), Linda Duncombe, Shanta (Ft. Lauderdale, Fl), and Porsha Saunders; Uncles: Harry Thurston, Jason Haley, Jamar Thurston, James Rolle, Dominique Rolle, Derrick Taylor (Miami, FL), Franklyn Saunders Sr,, Anthony Bostfield, Elvardo Beneby, Joel Seymour, Deon Seymour, Roderick Davis (Atlanta, Ga), and Kevin Thurston (Atlanta, Ga); Grand Aunts: Melaine Seymour, Delores Seymour, Paula Seymour (New York, NY), Thelma Clayton, Charie Shirley, Deade Burrows, Martha Butler, Mary Rolle, Dolly Rolle, Sheva McKenzie, Barbara Knowles, Donnie Swain and Dora King; Special Friend: Leeandra Jenkins (Miami, Fl); Cousins: Quentell, Jody, Bianca, Bernadette, Destiny, Angelique, J'neisha, Adina, Krista, Brittany S, Sarina, Pumkin, Bradine, Nelo, Delvon, Drevon, Fred Jr, Dasia, Jewels, Teron, Terah, Patrick, Hartio, Brittany, Valentino, Jade (New York, NY), Cory (New York, NY), Admad Rolle (Miami, Fl), Lindberg (Orlando, Fl) Kiandra Rolle (Orlando, FL), La'visha, Shelia, Erica and Darrell (Miami FL); Godfathers: Frankie Wright, Shawne Morley, Mighty Moncur; Godmothers: Samantha Bowles, Linda Cleare, Myra Delancey. A host of other relatives & Friends including: Marlo Gardiner, Delanzo Cartwright, Cody Newton, Dondre Williams, Devontae Burnside, Renaldo Adderley, Javar Gray, Lashenane, Kyle, Rashad, Meat Man, Monique, Seven Hills Family, Hard Rock Stadium, Pinewood Family, Sunshine Park Family, and Families of Miami, Florida.
Friends may pay their last respects at Demeritte's Funeral Home, Market Street, from 12-6:00 p.m. on Friday & on Saturday at the church from 9:00 a.m. until service time.