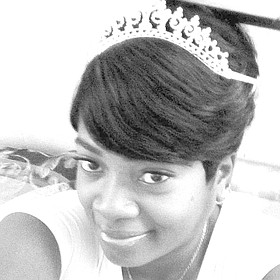 Lauren "Aunt LoLo" Christelle Munroe Barr
unknown - unknown
Lauren Christelle Munroe Barr (Aunt LoLo)
Formerly from Bain Town, New Providence, Bahamas Church. Service will be held at New Unity Christian Fellowship on Hospital Lane, Bain Town, opposite Sarah Ingraham Park
at 10am on Saturday, December 21st, 2019. Officiating: Bishop Ricardo Grant, assisted by: Bishop Anthony & Overseer Sharon Nairn. Interment will follow at Lakeview Cemetery.
Left to cherish her memories are: Predeceased by her Grandmother, mother & 2 sisters; Miss Madline Neely,Evangelist Monique Munroe, Melissa and Tameka Munroe.
 Left to cherish her memory are: Her husband: Staffon I. A. Barr. Parents: Larry Fleurinvil,  Bishop Anthony and Overseer Sharon Nairn. Brother: Ishmael Munroe. Sister: Nadia Esteve. Nieces: Asia Munroe, Winque, Winiya, Winicia Joseph and Clara'belle Barr, Andrea Burrows, Shanquovia Brown,  La'Shy Reckley Nephews: Houston Jr., Keon, Kriston and Tristan Rolle, Athony Ellis, Kareem Whyms and Winslow Jr. Siblings: Lisa and Mericia Fleurinvil, Nadly Fleuroseau, Whally Fleurinvil and Edrin Flerosier, Constable 3338 Latherio Reckley, Pastor Charles Nairn, Tracy Murphy,  Mrs. Tonian Munnings and Rickisha Fernander, Keva Major, Shyann Reckley. Aunts: Lisa Greenslade, Joanna and D. O. Corrections Officer; Claudette Munroe, Pamela Kelly. Mother-In-Law: Sabrina Barr. Aunt-In-Law: Dianne & Stephanie Edwards. Father-In-Law: Clarence Barr. Grand-Aunts: Alma Anderson and Eleanor Johnson.  Uncles: Robert, Brentwood and Anthon Munroe, Simeon Francis, Kazam Woods, Ricardo and Tissley Neely, Ellis and Hillary Gibson.Grand-Uncles: Jorlin Anderson Sr. Sister-In-Law: Trevrica Joseph, Keva Rolle and Shantell Barr, Stephanique Barr. Brother-In-Law: Clarence Barr Jr. Wislow Joseph, Houston Rolle Sr. Godchildren: Jeremiah Jean-Baptiste, Makayla Esteve, Jadiev Munnings, Tameia Moss, Stephanie Mackey, BiggieNumerous Cousins: Darshenique , Shandel, Demesiceo, Ellis Jr and Tasha Gibson, Robin, Mekel, Romeka, Robert Jr, Arianna, Brentwood Jr, Brittani and Brea Munroe; Renisha, Ricardo Jr, Rishea, Rashan, Ricara, Renique, Ricarion, Brandon, Brian, Tameka and Judith, Tiffany Neely; Gavinique Dawkins, Kianne Campbell; Joshua, Dianna and Ashley Jeudy, Doreka Nottage. Special mention: Charlene Marshall, Lauren Lighbourne, Vibert and Shanna Williams and The Nagico Insurance Family. Nicholas Joseph. Other Family & Friends: Jamie Whyms, Tamara Hamilton, The Scott Street neighbourhood Family, The Anderson Family, Neely Family, Munroe Family, The Marshall Family, Great I Am, C.O.G.I.C.: California, Pastor Princess Clyde and The Berry Island Family. Bishop Ricardo & Lady Grant, Universal Household of Faith, Pastor Demico Munroe, Mr. Kevin Ryan, Mother Beth Taylor, Mother Lana Deal & The New Unity Fellowship Church. Ms. Lucie Esteve, Natasha St.Louis Marvette Esteve and the entire Esteve Family, Veronica Knowles and Mandy Brown, The Evans Family and many more loved ones too numerous to mention.
Public Viewing will be at Bethel Brothers Mortuary on Nassau, Street on Friday December 20th, 2019 from 10am to 6pm.