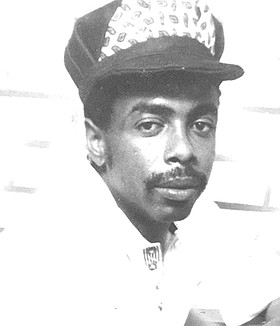 Kevin "Fish" Godfred Thompson
unknown - unknown
Funeral Service for Kevin Godfred Thompson age 52 affectionately called "Fish" a resident of Coconut Grove Dunmore Town Harbour Island Bahamas, who died Sunday December 1st will be held 3:00 p.m. Saturday December 21st, 2019 at Wesley Methodist Church Harbour Island Bahamas. Rev. J. Marie Neilly assisted by Deacon Jennifer Cleare and Deacon Wade Higgs will officiate and interment will follow in St. Catherine's Cemetery Chapel Street Harbour Island Bahamas.
Kevin's' Precious Memories will linger forever in the hearts of his:
Brothers: Kurt, Bradley Thompson and Dion Bethel.
Sisters: Denise Thompson Knowles, Natasha Russell.
Nephews: Jermaine Thompson, Jared Cooper, Dion Bethel, Alrick Taylor, Rodrake Bullard, Beydon Rosson.
Nieces: Erica Russell, Carlesha Bastian Dean, Deandra Bethel, Asia Thompson, Ajanae Thompson.
Grand Nephews: Jermaine Thompson, Dion Bethel, Brent McPhee, Jared Cooper, Kyrie Dean, Dvaughntae Curry.
Grand Nieces: Kaelyn Dean, Brentia McPhee, Jaria Cooper, Jeneice Thompson, Antique Williams.
Aunts: J.P. Nora Albury, Tessiemae Smith, Maria Johnson, Beverly Roberts, Willimae Albury, Peggy Dean.
Uncles: Cecil Johnson, Leonard Johnson.
Sister in Law: Delrose Thompson.
1 Brother in Law: Sebastian Knowles.
Cousins: Willesy Smith, Amy Young, Rashard Lambier Young, Kayla Stubbs, Micheal Black, Ancilla Black, Blair Trica Black, Reno Tayle, Brent Thompson, Kaydena Johnson, Jason Johnson, Towal Bethel, Cecilio Johnson, Cecil Johnson, Tavanna Johnson, Miranda Smith, Patty Roberts, Stephen Albury, Martin Albury, Bradford Albury, Aston Albury, Sharvanne Albury, Margverita Albury, Jeffrey Johnson, Arthur Johnson, Olum Johnson, Jonie Johnson, Edler Johnson, Helen Johnson, Monalisa Pennerman Hart, Andrew Pennerman, Shameko Pennerman, Malvern Williams, Dovis Berkel, Shelia Berkel, Sherry Johnson, Donna Colebrooke, Marilyn Major, Francis Pitters, Lina Thompson, Pamela Foulkes, Ruth Darico, Gloria Ashley, Judy Green, Grace Thompson, Cecily Albury, Lina Albury, Laurieann Albury, Antoinette Albury, Chris Albury, Shane Albury, Stuart Cleare, Rodney Cleare, Sandy Cleare, Vhaul Thompson, Phil Thompson, Andreas Thompson, Gaynell Murray, Levaughn Saunders, Shanta Stuart, Alfred Lloyd, Dwayne Lloyd, Willard Rolle, Anton Blatch, Lill Dee, Phillip Cleare.
Numerous Other Relatives and Friends including: The entire communities of Harbour Island, Gregory Town Eleuthera and the Yellow Elder Community.
Relatives and friends may pay their last respects at THE CHAPEL OF MEMORIES THE NEW COMMONWEALTH FUNERAL HOME INDEPENDENCE DRIVE Thursdsay from 2:00-6:30 p.m. Friday from 10:30 a,m,-12:00 noon and at the church in Harbour Island from 9:00 p.m. to service time on Saturday.
The Management and Staff would like to wish our loyal clients, friends and family members a Happy and Joyous Holiday Season, and a New Year filled with happiness, prosperity and health. May each of You find the True meaning of this occasion. Let your hearts be light, and be filled with generosity, humbleness and warmth.