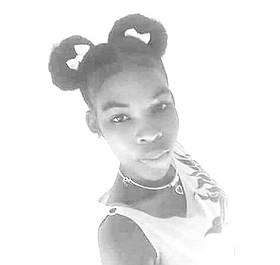 Kenricka Aremintha Martin
unknown - unknown
Funeral service for Kenricka Aremintha Martin age 17 of Nassau Village will be held on Saturday21st December 2019 at 11am. Service will be held at Living Waters Church of God, Marshall Road Nassau The Bahamas. Officiating will be , Bishop Wilbert Rolle assisted by other Ministers of the Gospel. Internment will be Southern Cemetery, Cowpenn & Spiknard Roads Nassau, The Bahamas.

Left to cherish her memories are:
Mother: Maizie Wallaces
Father: Kenroy Martin Sr.
Sister: Kenneisha Rolle
Brothers: Kenroy Martin Jr., Kenroy Rolle, Rashando Rolle and Kendrick Martin Grandmothers: Aremintha Martin and Mildred Wallaces
Grandfathers: Ezra Rolle, Tyrone Beneby and Donald Lightbourne
Aunts: Coral Martin, Maranda Martin, Lakoyca Martin, Tyrene Knowles, Toylretha Beneby, Di-
anna Beneby, Crystal Storr, Minera Oliver, Liouse, Ezralee, Zelpha, Iva and Keisha Rolle
Uncles: Vayne Bethel, Brian Bowleg, Celevnson Bethel, Clint, Jeffery, Michael, Rocko, Jasmine
Rolle, Laverette Lightbourne, Mugertte Turner and Tyrone Penn
Grand-Aunts: Altia Olier, Rebecca Oliver, Rena Oliver, Keva Beneby, Raquel Beneby and Flo-
ramae Beneby, Lovie Francis, Ethel Oliver, Ula Beneby, Lana Beneby and Zilpha Mackey
Grand-Uncles: Earnest Munnings, Cordell Munnings, Troy Beneby and Joe Oliver
A Host of Other Relatives and Friends including: Allison Cleare and Family, R.M. Bailey Class
of 2018, Mastic Point Community, Living Waters Church of God Family.
Friends may pay their last respects In the Chapel at Last Mile Of The Way Funeral Chapel Ltd.
Located (In The Former Jumper Brothers Bakery Building) On Pinedale Street .On Friday 20th December 2019. From 12noon until 5pm. and again on Saturday 21st from 10am. until service time.
May Her Soul Rest In Peace